Travel Guide
The Basics Of New York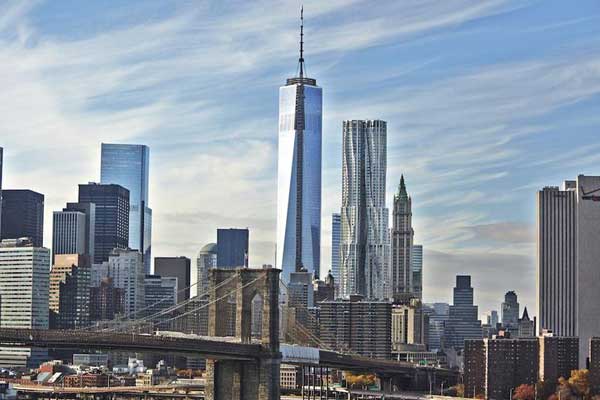 There are plenty of good reasons to visit New York, there is so much to see and do no matter who you are travelling with. We don't aim to sway your mind on what to do while in New York but perhaps offer advice on what's there. Like in other cities, there are attractions of good and poor quality to visit and if this is your initial time of visiting New York or if you have been there before, it's important you make the most of your time there. It is good to have an idea of what type of trip you want to make, and New York has a wide array of exciting places to visit that with stick with you for a long time.
New York Things To See And Do
When you are visiting New York a number of great attractions exist that you should be aware of to possibly plan into your trip. The popular New York locality of The USA has sights and sounds you may know and others that are less well known to outsiders of New York we have assembled a List of Ten to help you on your way:
1. Manhattan Skyline
2. Metropolitan Museum of Art
3. Central Park
4. Broadway
5. Top of the Rock Observation Deck
6. High Line
7. St. Patrick's Cathedral
8. Bryant Park
9. Grand Central Terminal
10. Empire State Building
These are a simple starting point if you have a good local book or guide you can expand on these and depending how much time you have in New York. You are sure to find other interesting points of interest and attractions about the New York vicinity of The USA.
Getting Mobile In New York
New York is a pretty simple place to get around, when you have grasped the layout of the place and understand the layout with the help of some local landmarks you will be able to get round with ease. You can cover a lot of the city as a pedestrian but ensure not to venture into unknown territory at night. If you wish to traverse greater distances across New York there are a few more options. New York has an extensive Subway system which runs 24 hours a day. It links the whole city. It is run by MTA and travel cards can be bought for multiple trips. There is a good network of buses that passes can be bought to include multiple trips. Collect a Rental Car in New York City, there is also the alternative to use New York Taxis, where the driver can offer up local knowledge. What ever method you use to explore New York ensure you see as much of it as you can.
New York City Subway Map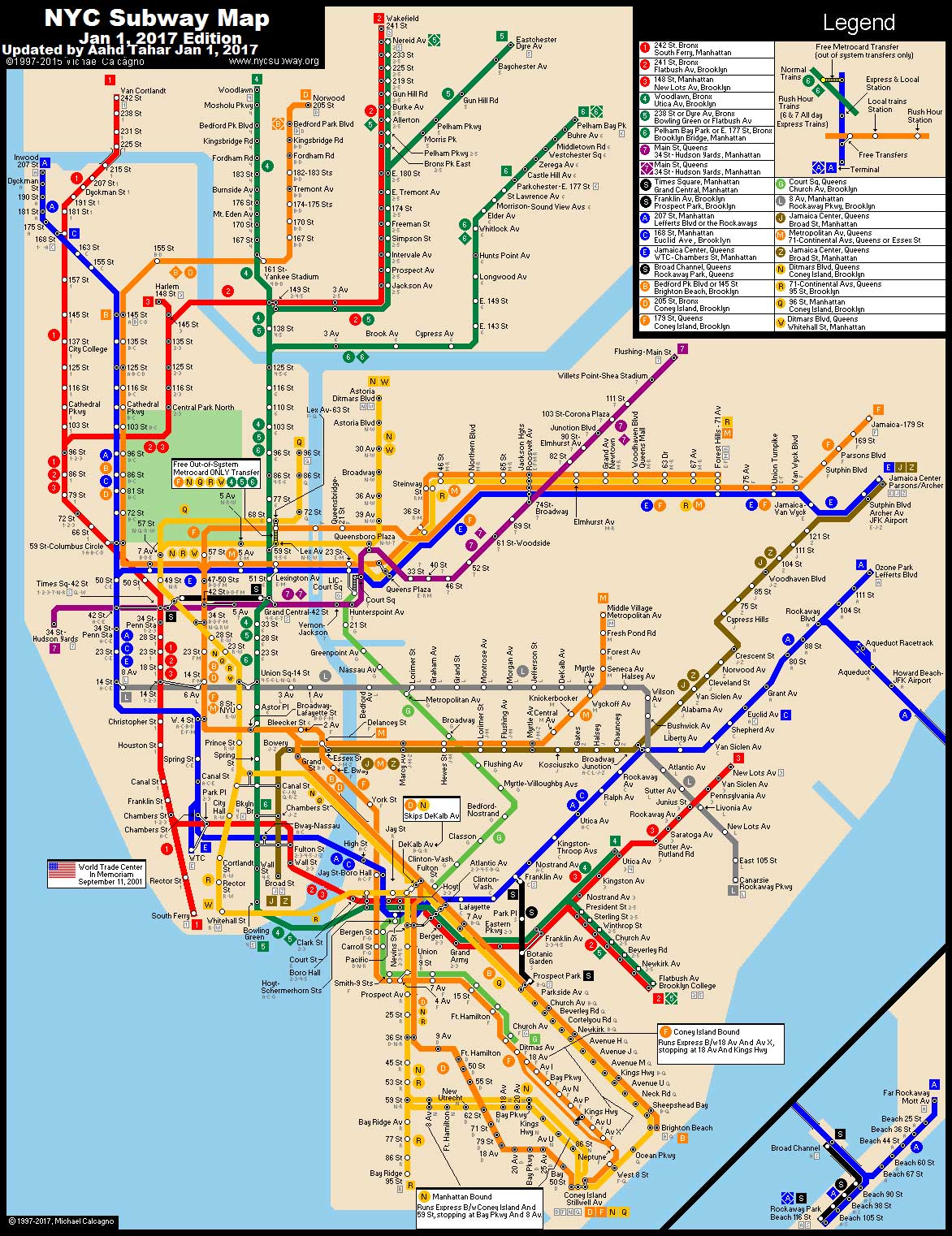 Large New York City Subway MTA Map
Places To Stay In New York
If you are staying in New York more than one night you will need to find a suitable place to stay. New York offers a broad range of facilities to sleep these consist of hotels at the high end of the star range to more modest hotels, B&Bs and hostels. If you are travelling on business ensure that the hotel you pick has the business facilites that suit your needs, check the area location is good as traffic in New York may result in problems at certain times. If you are looking for a prestigious hotel to stay at there is a selection of top chain and independent hotels. New York also offers an excellent array of lower star hotel options that provide basic but suitable facilities for travellers. If you don't have a large budget there is a number of guest houses and hotels in the area which are a fine place to sleep overnight. Whatever accommodation type you select in New York ensure you take time to seek out deals that are available on countless travel web sites, often these are out of season or when a home sports team isn't playing a game.
Recommended Hotels In New York
1. The Sherry-Netherland Hotel
2. Chelsea Pines Inn
3. Casablanca Hotel Times Square
4. Library Hotel
5. Casablanca Hotel Times Square
Places To Eat In New York
There are endless places to eat in New York, where you eat really depends on your taste and budget. There are quite a lot of good cheap places that offer American meals and don't break the bank. If the restaurant type you are looking for is of the high end there are a number of these, but be sure to have a prior reservation and ensure that your follow the dress code if there is one. If you just wish to eat without glamour the well known chain brands such as Burger King, McDonalds etc, but if you are seeking something real why not ask a local and see where they recommend. A fundamental part of enjoying a city is to try it's local food There is a wide variety of places to dine in New York. whether that is a café, a fine restaurant or food from a street vendor. You should try and seek your local vouchers and remember to try something new.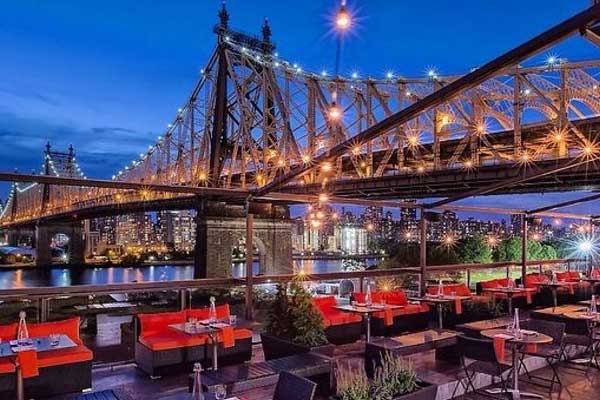 Recommended Places To Eat In New York
1. Colicchio and Sons Main Dining Room
2. Club A Steakhouse
3. Levain Bakery
4. Le Bernardin
5. Daniel
New York Key Facts
When getting to grips with a city such as New York it is often a good idea to have some inside knowledge. There are some here that could help you.
Continent: North America
Country: USA
Region: New York
International Dialing Code: 1
New York Coordinates: 42.3482° N, 75.1890° W
Altitude: 1.5 meters / 5 feet
Currency: US Dollar (USD)
Language: English
New York Time Zone: EDT - UTC/GMT -5 hours
City Population: 8.3m
Metro Population: 18.8m
Temperature High In 29°C / 84°F
Temperature Low In -3°C /26°F
Keeping Safe In New York
Like other cities New York possess it's own good and bad points. it is clever to have you wits about you and you will be OK and have a fantastic trip to this wonderful American place. Take a good map and guide and be aware of where you are going, don't make it obvious you are a tourist by carrying an expensive camera around your neck and don't carry huge amounts of cash on your person. Try and remain to familiar areas after dark and if you do get lost, ask an official or hail a taxi. Just because you might be on holiday, don't switch off. Bear this is mind and you will have a great time in New York. On the whole The USA is a safe location with helpful and warm citizens. Conducting some basic research is very valuable and if you have a picture in your mind of the city you can understand it better.
CarHire4Lower By Rick Lockwood
28 October 2017