Travel Information
Miami Airport Car Rental
Miami Airport Rental Car Center (RCC)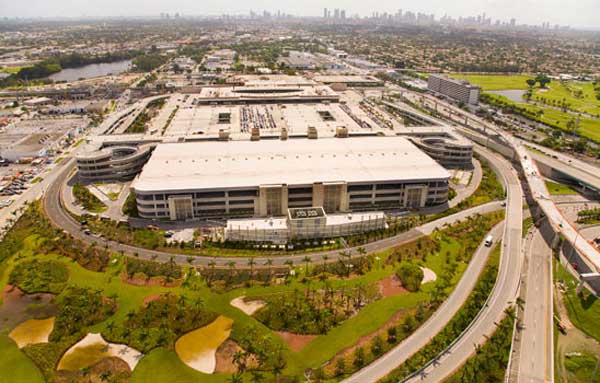 What is Miami Rental Car Center?
The Miami Airport Rental Car Center is a facility that consolidates 16 major Car Rental companies under one roof a short distance from Miami Airport.
The connection between Miami Airport and RCC is via the MIA Mover transit train. The Airport MIA Mover train station at the is located on the 3rd level between the Dolphin and Flamingo Garages. Use the 3rd level Skyride (moving walks) to access the MIA Mover station.
Facts About The Rental Car Center (RCC) at Miami International Airport
3.4 million square feet
Four levels, each 20 acres in size (approximately eight square city blocks)
Spacious customer service facilities for rental car transactions
Space available for 16 rental car companies
Second largest facility of its kind in U.S.
6,500 total car capacity allocation
Ready/Return car area
Fleet Storage/Staging area
Quick Turnaround Area (QTA) for washing and refueling cars

Finding The MIA Mover At Miami International Airport

Car Rental Companies That Are Located In The Miami Rental Car Center
Map Of Miami Rental Car Center
MIA Car Rental Contact Telephone Numbers

Advantage Rent A Car - 1 800 777-5500 / 305 874-2135
Alamo 1-800-327-9633 / 305-633-6076
All Day Rent A Car 1 800 220-5011 / 305 634-3422
Avis 1-800-331-1212 / 305-341-0936
Budget 1-800-527-0700 / 305-871-2722
Dollar 1-800-800-4000 / 1866-434-2226
Enterprise 1-800-325-8007 / 305-633-0377
E-Z Rent A Car 1 800 277-5171 / 305-635-3230
Firefly Car Rental 1-888-296-9135 / 786-606-2497
Hertz 1-800-654-3131 / 305-871-0300
National 1-800-227-7368 / 305-638-1026
Payless 1-800-729-5377 / 305 870-0397
P & P Family Auto Rental 1 800 531-1177 / 305-638-9400
Royal 1-800-314-8616 / 305-871-3000
Sixt rent a car 1-888-749-8227 / 305-503-9849
Thrifty 1-800-367-2277 / 1-800-367-2277
Returning a Rental Car To MIA Rental Car Center The return entrance is located
3900 NW 25th Street - Miami, Fl 33142
Upon returning your vehicle, you follow the signage to the appropriate rental agency's return area, drop off your vehicle and then try and locate a bank of elevators or escalators that will take you to the 4th floor to catch the MIA Mover back to the airport. Note - Allow up to an hour at busy times to do this.
Car Rental At Miami RCC
CarHire4Lower By Rick Lockwood
24 April 2016