Travel Information
Atlanta Hartsfield-Jackson Airport Car Rental
Atlanta Hartsfield-Jackson Airport Rental Car Center (RCC)
What is Atlanta Hartsfield-Jackson Airport Rental Car Center?
The Atlanta Airport Rental Car Center is a facility that consolidates 16 major Car Rental companies under one roof a short distance from Atlanta Airport.
The connection between Atlanta Airport and RCC is via the MIA Mover transit train. The Airport MIA Mover train station at the is located on the 3rd level between the Dolphin and Flamingo Garages. Use the 3rd level Skyride (moving walks) to access the MIA Mover station.
Atlanta Airport Rental Car Center Facts
More than 2 million people rent vehicles each year at Hartsfield-Jackson.
The ATL SkyTrain operates six two-car trains. Each car can carry 50 passengers and their baggage.
The rental car center includes:
Two four-story parking decks
2.8 million square feet of parking area
More than 8,700 parking spaces
1,200 additional ground-level parking spaces
137,000-square-foot customer service center
1.3-acre facility to store and maintain trains
"Quick turnaround" area with maintenance, wash and fuel facilities for rental vehicles
58 fuel pumps
19 wash bays with water recovery system
How to Access Hartsfield-Jackson's RCC?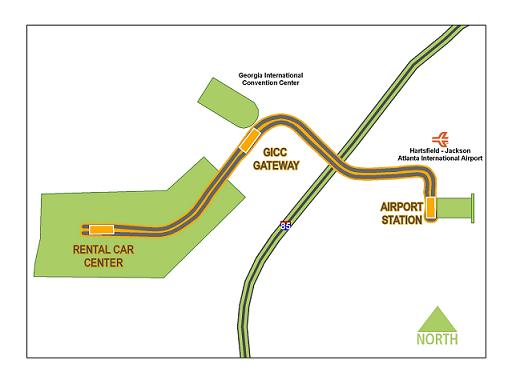 Pick up your checked luggage at the north or south baggage claim area.
Follow the overhead signs and hallway placards to the rental car center.
Proceed out of the west end of the terminal under the covered walkway.
Take the escalator up to the station and board the ATL SkyTrain for the five-minute ride to the rental car center.
ATL SkyTrain
The ATL SkyTrain is an elevated train that connects the passenger terminal to the rental car center. The ATL SkyTrain takes customers on a scenic, five-minute ride to the rental car center, where they sign rental agency contracts and pick up cars.
The ATL SkyTrain also connects the Airport and the rental car center to the Georgia International Convention Center (GICC). Meeting and event attendees at the GICC will have unprecedented access to the world's busiest airport, the state's second-largest convention center and the state-of-the-art rental car center. The Airport has 12 ATL SkyTrain cars. They operate in pairs to shuttle customers from the terminal to the GICC/Gateway Center station and then to the rental car center. The wait time between trains during the day is about three minutes. During off-peak hours and overnight, the wait time should be no longer than 10 minutes.
The rental car center - a 67.5-acre site across I-85 from the Airport - houses all Airport rental car companies and their associated operations, including customer service, administrative offices, car pickup and return, fueling and maintenance facilities.
CarHire4Lower By Rick Lockwood
24 April 2016