Travel Guide
The Basics Of San Francisco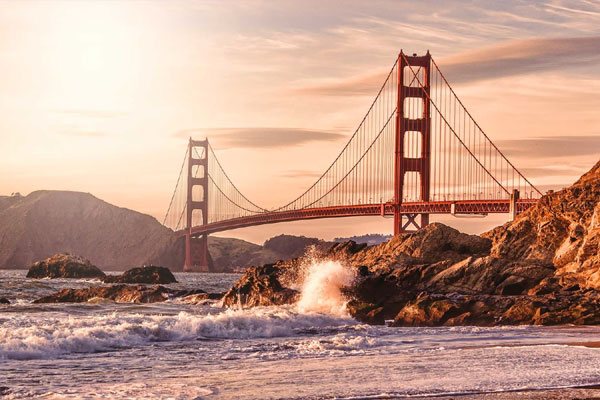 It's a fantastic idea to visit San Francisco, on offer is a number of brilliant attractions whether you are alone, a couple or a large group. This article is not to blow your mind with everything that is going on in San Francisco but maybe offer up some advice on what is available to do there. Just like in other cities, there are plenty of good and bad places to visit and if it is the first time you are visiting San Francisco or if you have paid a visit before, enjoying yourself and making the most of your time there is paramount. It can be wise to set in your mind what you want to do and see, and San Francisco has a number of really interesting experiences that you will remember for a long time.
San Francisco Ten Top Attractions
During your time in San Francisco there are a lot of attractions that you should be aware of to possibly plan into your trip. The popular California precinct of The USA has attractions which you could be familiar and maybe others that are not known to people from outside the area of San Francisco we have amassed a Top Ten list to be of help to you:
1. Golden Gate Bridge
2. Marin Headlands
3. Alcatraz
4. San Francisco Bay
5. Lands End
6. Legion of Honor
7. Walt Disney Family Museum
8. Twin Peaks
9. Golden Gate Park
10. Palace of Fine Arts
These really are just a starting point if you have taken a quality guide book you can seek out a bit more and if there is enough time in San Francisco. You are sure to find other interesting locations and attractions in and around the San Francisco vicinity of The USA.
Transport In San Francisco
San Francisco is a fairly simple location to get around, when you have grasped the layout of the place and know a couple of local landmarks you should be able to navigate around with ease. You can cover a lot of the city on foot but ensure not to venture into unknown territory at night. If you wish to traverse greater distances across San Francisco there are a number of transport options. San Francisco has a Mass Transit System - Bay Area Rapid Transit (BART) system serving the San Francisco Bay Area in California. There are currently 6 lines with 46 stations. There is a good, reliable bus network where passes can be bought to include multiple trips on more than one day. There are some fantastic Car Rental companies in San Francisco, there is also the option to use San Francisco Taxis, but be aware of slow moving traffic at rush hour. What ever method you use to explore San Francisco make sure you see as much of the city as your can.
San Francisco Transit Map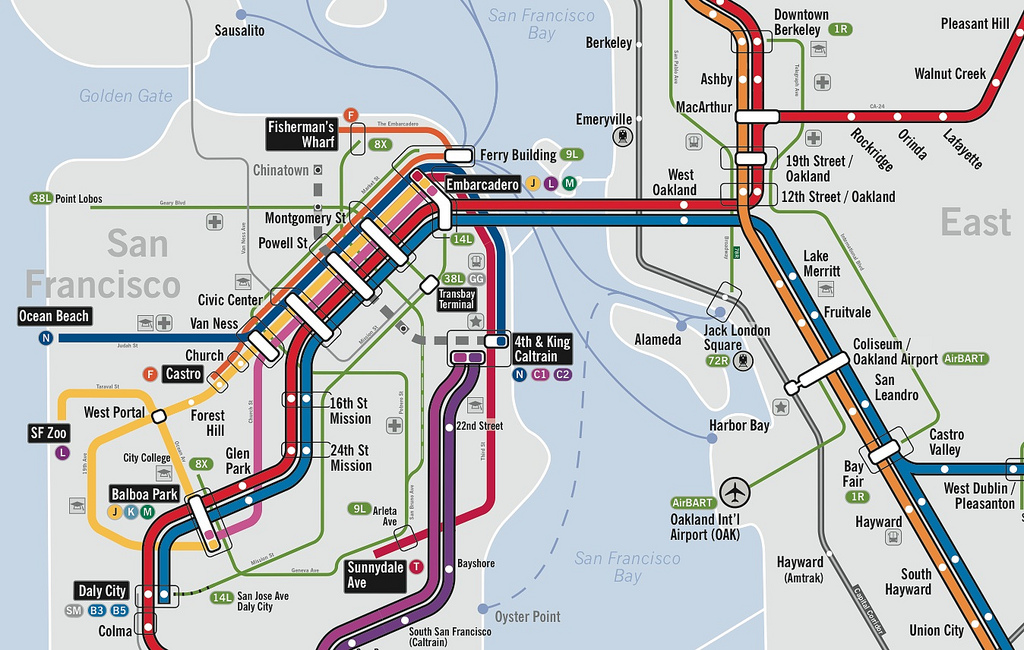 Large San Francisco BART Transit Map
Places To Stay In San Francisco
If you plan to stay in San Francisco more than one night you will need to find a place to stay. San Francisco has a wide range of places to bed down these includes high end, deluxed locations to more modest hotels, B&Bs and hostels. If you are travelling on business ensure that the hotel you pick has the business facilites that suit your needs, check the area location is good as traffic in San Francisco can result in problems at certain times of the day. If you are seeking out more luxury accommodation there is a selection of top chain and independent hotels. San Francisco also offers an excellent array of lower star hotel options that provide simple but functional facilities for visitors to the city. If you don't have a large budget there is a number of guest houses and hotels in the area which are a fine place to sleep overnight. Whatever accommodation type you select in San Francisco ensure you take time to seek out deals that are available on countless travel web sites, often these are out of season or when a home sports team isn't playing a game.
Recommended Hotels In San Francisco
1. Hotel Drisco
2. Fairmont Heritage Place, Ghirardelli Square
3. The Inn at Union Square
4. Omni San Francisco Hotel
5. Suites at Fisherman's Wharf
San Francisco Restaurants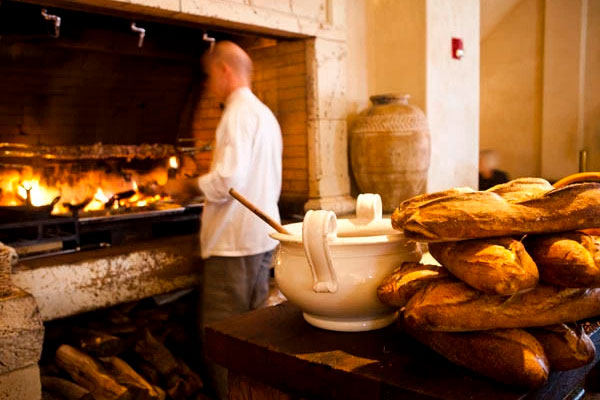 A number of places exist to dine in San Francisco, the venue you are limited to is only bound by your budget and tastes. There are a number a fantastic low cost restaurants that serve American meals that won't leave you out of pocket. If the restaurant type you are looking for is of the high end there are a number of these, but be sure to have a prior reservation also ensure you are dressed correctly. If you want fast food there is regular names like Subway or McDonalds exist in the city, but if you are on the look out for something more authentic you should ask a local and see where they suggest. A fundamental part of enjoying a city is to try it's local food There is a wide variety of places to dine in San Francisco. whether that is a café, a fine restaurant or food from a street vendor. You should try and seek your local vouchers and ensure that you try something new.
Recommended Places To Eat In San Francisco
1. Kokkari Estiatorio
2. Molinari Delicatessen
3. Hollywood Café
4. Restaurant Gary Danko
5. Sotto Mare Oysteria & Seafood
Shopping In San Francisco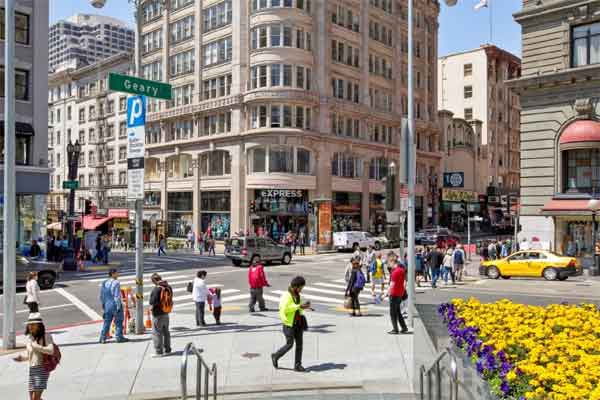 San Francisco is a great place for shopping, there are some great areas of the city where you are able to pick up gifts and fantastic retail items. San Francisco has a wide array of high end shops and boutiques, for those interested in buying clothes. It also has a number of popular chain outlets, here you can buy fashions at lower prices. If you are on the look out for bargains, San Francisco offers a few great markets where you will be able to find big savings on clothes and gifts. Like most cities, San Francisco has a number of Malls where you can shop till you drop. There is also a number of specialist shops that offer items with a twist unique to San Francisco
Shopping Locations In San Francisco
Westfield San Francisco Centre - Popular Shopping Street / Famous Chain Stores
Union Square Shopping - Popular Shopping Street / Famous Chain Stores
Chestnut Street Shopping - High End shopping Area With Places To Dine
Chinatown Shopping - Popular Shopping Area With Gift And Novelty Shops
Hayes Valley Shopping - Picturesque shopping area with novelty shops
San Francisco Sports Teams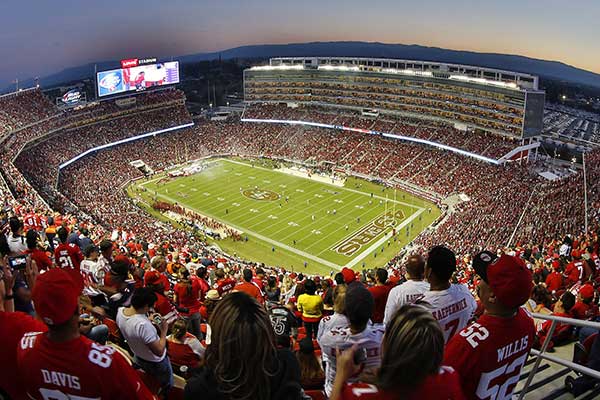 San Francisco is a city that really enjoys it's sport there are a number of professional sports teams within San Francisco that if you get the chance are well worth a visit at some truly great sporting venues.
American Football San Francisco 49ers Levi's Stadium
Baseball San Francisco Giants AT&T Park
San Francisco Key Facts
When getting to grips with a city such as San Francisco it is often a good idea to have some inside knowledge. This is a few that could prove helpful.
Continent: North America
Country: USA
Region: California
International Dialing Code: 1
San Francisco Coordinates: 37.7750° N, 122.4183° W
Altitude: 91 ft (27 m)
Currency: US Dollar (USD)
Language: English
San Francisco Time Zone: UTC/GMT -7 hours
City Population: 815,358
Metro Population: 4.3m
Temperature High In 21.3°C / 71.3°F
Temperature Low In 7.9°C / 46.2°F
Keeping Safe In San Francisco
Like most cities San Francisco has positive and negative points, it is clever to have you wits about you and you and your travel party will be fine and have a great trip to this fantastic American area. Try and make you're read your guide book brief to understand the city geography, try not to make it obvious you are a visitor to the city by holding an expensive video camera and don't carry huge amounts of cash on your person. Stay within populated areas at night and if you should get lost hail a taxi. Just because you are enjoying yourself, don't switch off your senses completely. Stay street wise and you will have a great trip to San Francisco. On the whole The USA is a safe location with helpful and warm citizens. A bit of research is very valuable and if you know a city better, you will have a much better time there.
CarHire4Lower By Rick Lockwood
24 July 2017