Travel Guide
An Introduction To Kiev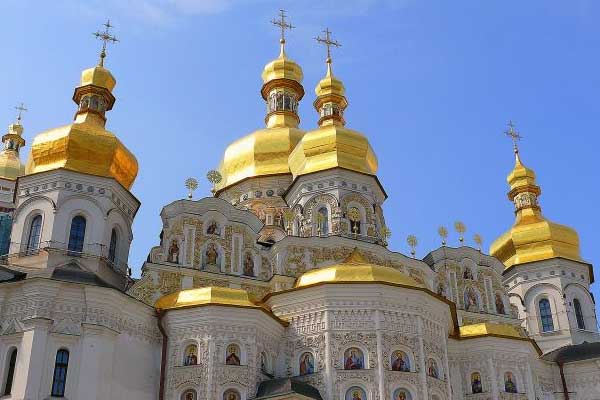 A number of reasons exist to visit Kiev, there is a huge number of things to do regardless of the size of your travelling party. We don't plan to suggest which sights and attractions you visit while in Kiev but perhaps offer advice on what's there. Just like in other cities, there are plenty of good and bad places to visit and if this is your initial time of visiting Kiev or if you have paid a visit before, enjoying yourself and making the most of your time there is paramount. It can be wise to set in your mind what you want to do and see, and Kiev has a wide array of exciting places to visit that with stick with you for a long time.
Kiev Top 10 Attractions
While paying a visit in Kiev there are a number of attractions which are worth some of your time. The esteemed Kiev City Municipality locality of Ukraine has places of interest known to many and others which aren't that familiar to outsiders of Kiev we have amassed a Top Ten list to help you:
1. Mykola Syadristy Microminiatures Museum
2. St. Michael's Cathedrale
3. Saint Sophia Cathedral
4. Kiev-Pechersk Lavra - Caves Monastery
5. Pirogovo Open-Air Museum
6. Great Patriotic War Museum
7. St. Andrew's Church
8. Grishko Central Botanical Garden
9. Khreshchatyk Street
10. Rodina Mat (Motherland)
These really are just a starting point if you have taken a quality guide book you can delve further and if you have long enough in Kiev. You will discover other enjoyable points of interest and attractions in the Kiev area of Ukraine.
Transport In Kiev
Kiev is not a difficult city to navigate, once you have an eye for the place and understand the layout with the help of some local landmarks it should become pretty simple. You can cover a lot of the city as a pedestrian but ensure not to venture into unknown territory at night. If you wish to cover larger distances across Kiev there are other ways to get around. Kiev has a Metro system that consists of 3 lines with 52 stations There is a good, reliable bus network where passes can be attained to include multiple journeys. Collect a Renral Car in Kiev, there is also the option to use Kiev Taxis, but be aware of heavy traffic at busy times. Whichever way you plan to explore Kiev make sure you see as much of the city as your can.
Kiev Metro Map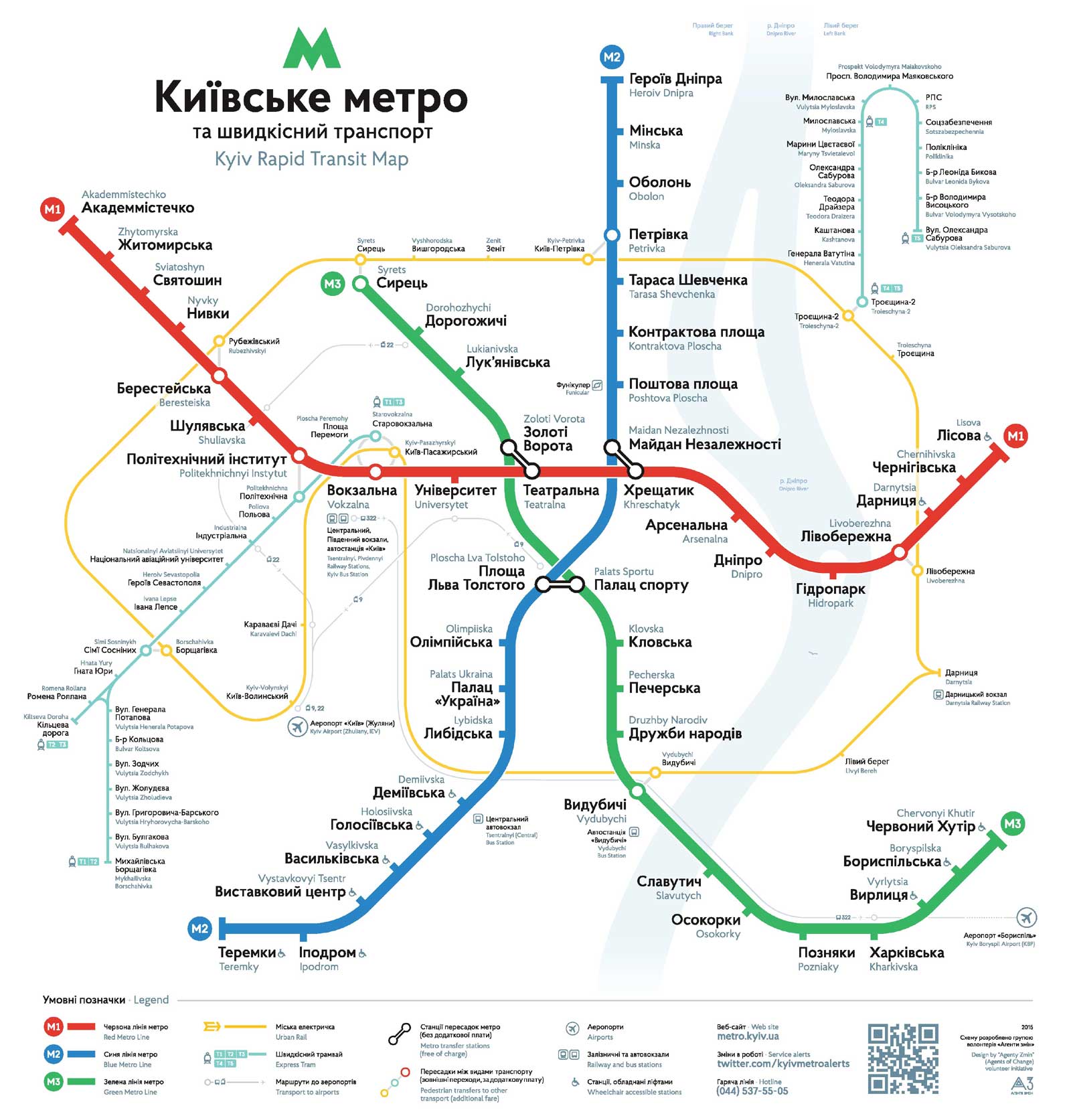 Accommodation In Kiev
If you wish to stay in Kiev for a period longer than one day you'll need a location to rest. Kiev offers a broad range of facilities to sleep these consist of hotels at the high end of the star range to more modest hotels, B&Bs and hostels. If you are travelling on business ensure the hotel you decide to select has facilities to suit you and is OK for your needs as the roads in Kiev can cause problems at certain times of the day. If you are looking for a prestigious hotel to stay at there is a selection of top chain and independent hotels. Kiev also offers a good selection of lower star hotels that offer basic but suitable facilities for travellers. If you do not have a huge accommodation budget there is a number of hostels and guest houses in the city which are a good place to rest your head. Whichever type of accommodation you select in Kiev ensure you take time to seek out deals that are available on countless travel web sites, often when there is a big event on in town.
Recommended Hotels In Kiev
1. 11 Mirrors Design Hotel
2. Senator Apartments Maidan
3. InterContinental Kiev
4. Fairmont Grand Hotel Kyiv
5. Hilton Kyiv
Dining In Kiev
A wide number of places are available to eat at in Kiev, the sites where you select to eat at will be reflected by your budget. There are quite a lot of dining venues that offer Ukrainian menus that will not cost the Earth. If you are on the look out for a fine dining restaurant there are a number of these, but be sure to have a prior reservation and make sure you are dressed suitably. If you just want quick food there are the familiar names , but if you are seeking something real you should try asking a local or a taxi driver where they suggest. A fundamental part of enjoying a city is to try it's local food There is a wide variety of places to dine in Kiev. whether it is a café, restaurant or the food that can be bought and eaten on the street. You should check local newspapers for offers and remember to try something new.
Recommended Places To Eat In Kiev
1. Happy Grill Bar
2. Spotykach
3. Pervak
4. ODESSA Restaurant
5. Restaurant Chachapuri
Kiev Key Facts
When getting to grips with a city such as Kiev it is often a good thing to have some background knowledge. There are some here that could help you.
Continent: Europe
Country: Ukraine
Region: Kiev City Municipality
International Dialing Code: +380
Kiev Coordinates: 50°27'00?N 30°31'24?E
Altitude: 179 m (587 ft)
Currency: Ukrainian Hryvnia (UAH)
Language: Ukrainian
Kiev Time Zone: EET (UTC+2)
City Population: 2,900,920
Metro Population: 3,375,000
Temperature High In 25.6 °C (78.1 °F)
Temperature Low In -5.8°C (21.6°F)
Keeping Safe In Kiev
Just like other cities Kiev possess it's own good and bad points. it is important to keep your wits about you and you'll remain safe and sound and hold fond memories of this great Ukrainian area. Take a good map and guide and be aware of where you are going, don't alert people to the fact you are unfamiliar wit h the city by exposing expensive electronic goods and don't carry your passport and large amounts of cash on you. Try and stick to well lit areas that are populated after nightfall and if you find yourself stranded, ask a police officer or hail a cab. Just because you are enjoying yourself, don't switch off your senses completely. Stay street wise and you will have a great trip to Kiev. On the whole Ukraine is a welcoming place with great locals. Conducting some basic research is very valuable and if you know a city better, you will have a much better time there.
CarHire4Lower By Rick Lockwood
25 October 2017