Like & Share Nottingham, UK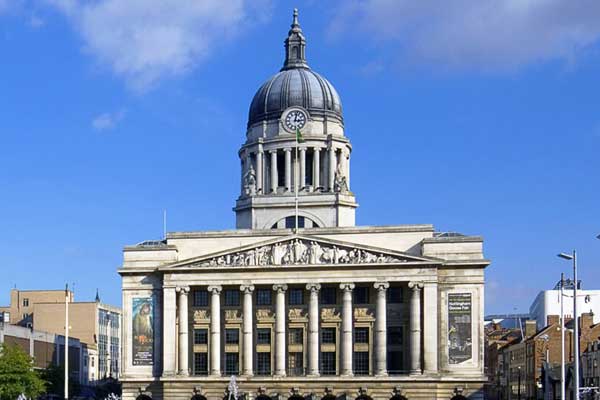 Get Your Teeth Into Nottingham
There are plenty of reasons to come to Nottingham, on offer is a number of brilliant attractions no matter how large your group. We don't plan to suggest which sights and attractions you visit while in Nottingham but rather just provide guidance and offer advice on what is there. Like any city; there are good places and bad places to visit and if this is your initial time of visiting Nottingham or if you are a seasoned visitor; there is always something new to see or do. It is often an idea to have a rough plan of places you wish to visit; and Nottingham has a wide variety of fascinating places to visit that you will never forget.
Nottingham Best Things To Do
While visiting Nottingham there are quite a few places of interest that are well worth a visit. The amazing East Midlands area of The United Kingdom has sights and sounds you may know and others you won't know to visitors of Nottingham we have assembled a List of Ten to be of help to you:
1. Galleries of Justice
2. St. Mary's Church
3. Wollaton Hall and Park
4. Brewhouse Yard Museum
5. Games Workshop Museum
6. Green's Mill
7. Ruddington Framework Knitters' Museum
8. Lace Market Theatre
9. Nottingham Castle
10. Old Market Square

Transport In Nottingham
Nottingham is not a difficult city to navigate; once you have your bearings and you are familiar with a couple of landmarks you will be able to get round with ease. You can discoverer a lot of the area on foot but be sure to stick to popular and familiar areas after dark. If you wish to traverse greater distances across Nottingham there are some other alternatives to get around. Nottingham Express Transit system called NET. It has 50 stations over 2 lines. There is a city wide bus system where tickets can be purchases to cover multiple journeys. If you are in a larger party; it might be better to use a Rental Car in Nottingham, there is also the option to use Nottingham Taxis, but be aware of heavy traffic at busy times. Whichever way you plan to explore Nottingham ensure you see as much of it as you can.
Hotels In Nottingham
If you are staying in Nottingham for longer than one night you will be looking for a place to sleep. Nottingham offers a broad range of facilities to sleep these include hotels varying from the higher end of the star range to more modest hotels; B&Bs and hostels. If you are travelling on business ensure that the hotel you pick has the business facilites that suit your needs; check the area location is good as traffic in Nottingham can result in problems at certain times of the day. If you are looking for a prestigious hotel to stay at there is a selection of top independent and chain hotels. Nottingham also offers a good selection of lower star hotels that offer basic but suitable facilities for travellers. If you don't have a large budget there is a number of hostels and guest houses in the city which are a fine place to sleep overnight. Whatever accommodation type you select in Nottingham ensure you take time to seek out deals that are available on countless travel web sites, often when there is a big event on in town.

Recommended Hotels In Nottingham
1. Roomzzz Nottingham City
2. DoubleTree by Hilton Hotel Nottingham - Gateway
3. Premier Inn Nottingham City Centre (Chapel Bar) Hotel
4. Premier Inn Nottingham West Hotel
5. Restaurant Sat Bains with Rooms

Dining In Nottingham
There a countless locations to dine in Nottingham; the venue you are limited to is only bound by your budget and tastes. There are quite a lot of good cheap places that offer British menus that will not cost the Earth. If the restaurant type you are looking for is of the high end there are a wide number of these; but you will need to make a reservation also check the dress code. If you just want quick food there are the familiar names but if you want something a bit more edgy you should ask a local and see where they suggest. A fundamental part of enjoying a city is to try it's local food There is a wide variety of places to dine in Nottingham. whether that is a cafe; a fine restaurant or food from a street vendor. You should check local newspapers for offers and ensure that you try something new.

Recommended Places To Eat In Nottingham
1. Calcutta Club
2. Veeno
3. Ania Polish Restaurant
4. Gurkha One
5. Hartleys Coffee & Sandwich Bar

Nottingham Key Facts
When starting to understand a new city like Nottingham it is always good to be armed with some basic facts. This is a few that could prove helpful.

Continent: Europe
Country: UK
Region: Nottinghamshire
International Dialing Code: +44
Nottingham Coordinates: 52 57?N 1 8?W
Altitude: 49 m (162 ft)
Currency: Pound Sterling (GBP)
Language: English
Nottingham Time Zone: GMT (UTC+0)
City Population: 318 900
Metro Population: 729 977
Temperature High In 21.3 C (70.3 F)
Temperature Low In 1.1 C (34 F)
Any Problems?
Let CarHire4Lower know by social media if any of the information regarding , or any other page is inaccurate and we will ensure it is corrected as soon as possibe.

CarHire4Lower Twitter Profile

CarHire4Lower Facebook Page

CarHire4Lower Linkedin Page