Travel Guide
An Introduction To Seville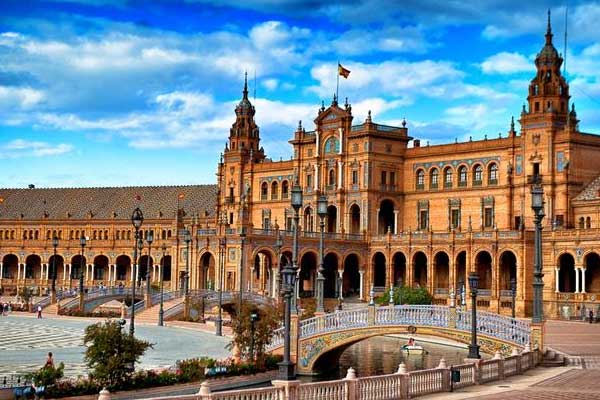 It's wonderful to pay a visit to Seville, on offer is a varied selection of attractions regardless of the size of your travelling party. We don't aim to sway your mind on what to do while in Seville but perhaps offer advice on what's there. Like in other cities, there are attractions of good and poor quality to visit and if this visit is your first to Seville or if you have paid a visit before, enjoying yourself and making the most of your time there is paramount. It is often an idea to have a rough plan of places you wish to visit, and Seville has a number of really interesting experiences that you will remember for a long time.
Seville Ten Top Attractions
While you are in Seville a number of great attractions exist that should make up part of your trip. The revered Andalusia vicinity of Spain has attractions which you could be familiar and perhaps others that aren't known to people from outside the area of Seville we have collected a list of 10 to help you on your way:
1. Alcazar
2. Plaza de Espana
3. Barrio Santa Cruz
4. Casa de la Memoria de Al-Andalus
5. Giralda Tower
6. Seville Cathedral (Catedral de Sevilla)
7. Iglesia Colegial del Salvador
8. Museum of Fine Arts, Sevilla
9. Maria Luisa Park (Parque de Maria Luisa)
10. Auditorio Alvarez Quintero
This collection are just to get you going if you have a good local book or guide you can expand on these and depending how much time you have in Seville. You will discover other enjoyable locations and attractions in and around the Seville part of Spain.
Getting Around In Seville
Seville is not a hard place to travel around, once you have your bearings and understand the layout with the help of some local landmarks you should be able to navigate around with ease. You can cover a lot of the city on foot but ensure not to venture into unknown territory at night. If you wish to traverse greater distances across Seville there are a few more options. There is a good network of buses that passes can be bought to include multiple trips on more than one day. If you wish to travel longer distances discover a Rental Car In Seville, there is also the option to use Seville Taxis, but be aware of slow moving traffic at rush hour. What ever method you use to explore Seville make sure you see as much of the city as your can.
Seville Metro Map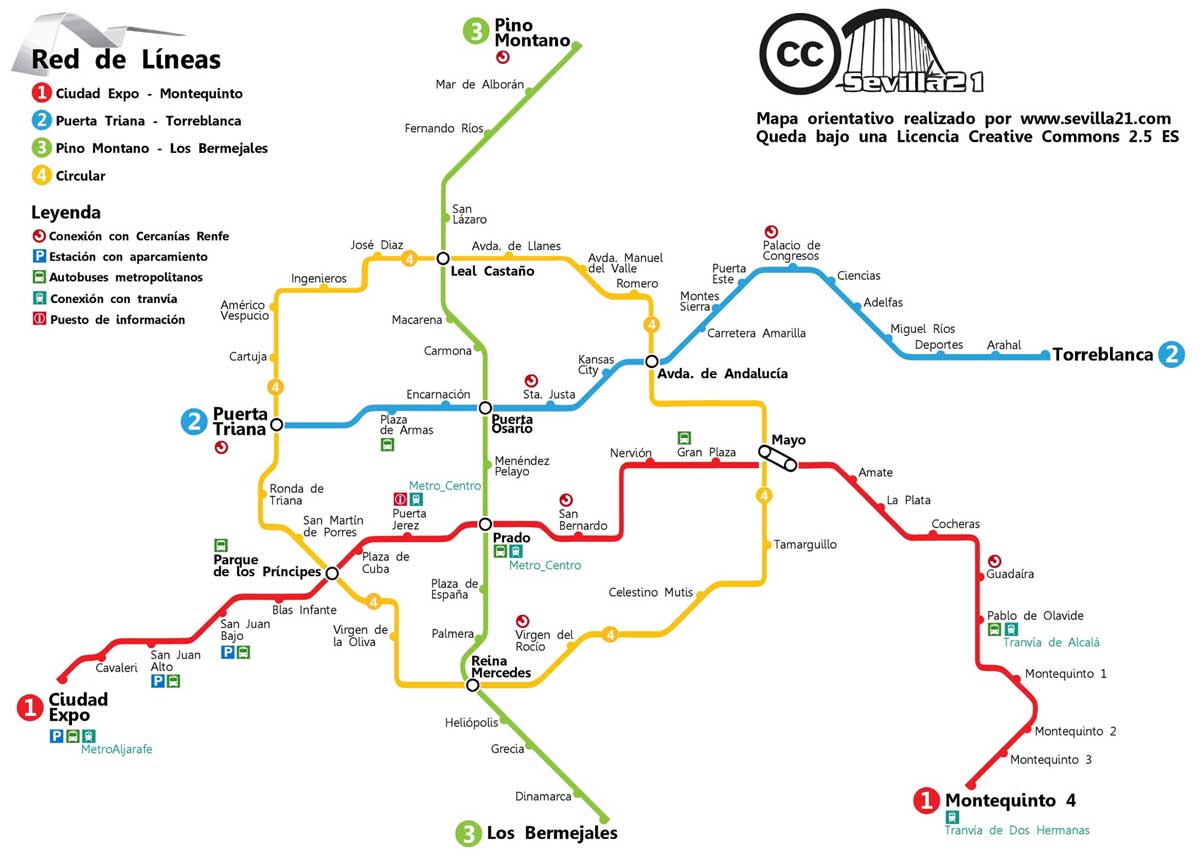 Places To Stay In Seville
If you are staying in Seville for longer than one night you'll need a location to rest. Seville has a wide range of places to bed down these consist of hotels at the high end of the star range to more modest hotels, B&Bs and hostels. If you are visiting the city on business ensure the hotel you decide to select has suitable facilities and is in the right area for your meetings as the traffic in Seville can result in problems at certain times of the day. If you are seeking out more luxury accommodation there is a selection of top chain and independent hotels. Seville also offers an excellent array of lower star hotel options that provide simple but functional facilities for visitors to the city. If you do not have a huge accommodation budget there is a number of hostels and guest houses in the city which are a good place to rest your head. Whichever type of accommodation you select in Seville ensure you take time to seek out deals that are available on countless travel web sites, often when there is a big event on in town.
Recommended Hotels In Malaga
1. Corral del Rey
2. Hotel Casa 1800
3. AlmaSevilla - Hotel Palacio de Villapanes
4. Hotel Holos
5. Hacienda de San Rafael
Venues To Dine In Seville
A number of locations exist to dine in Seville, the place you dine at will reflect your tastes and budget. There are a number a fantastic low cost restaurants that serve Spanish menus that will not cost the Earth. If you are on the look out for a fine dining restaurant there are a wide number of these, but you will need to make a reservation also ensure you are dressed correctly. If you want fast food there is regular names , but if you want something a bit more edgy you should ask a local and see where they suggest. Part and parcel of visiting a city is to enjoy everything about it, including it's food There is a wide variety of places to dine in Seville. whether that is a café, a fine restaurant or food from a street vendor. You should check local newspapers for offers and remember to try something new.
Recommended Places To Eat In Malaga
1. La Cantina Mexicana
2. Osteria L'Oca Giuliva
3. Eslava
4. Mechela Restaurante
5. DeO
Seville Information
When getting to grips with a city such as Seville it is a good idea to have some good local information. These is a few that could come in handy.
Continent: Europe
Country: Spain
Region: Andalusia
International Dialing Code: 34
Seville Coordinates: 37.3772° N, 5.9869° W
Altitude: 7 m (23 ft)
Currency: Euro (EUR)
Language: Spanish
Seville Time Zone: CET (UTC+1)
City Population: 703,021
Metro Population: 1,519,639
Temperature High In 95.4 °F / 35.3 °C
Temperature Low In 41.4°F / 5.2 °C
Retail / Shops In Seville
Seville is great for shopping, there are some great areas of the city where you are able to pick up gifts and fantastic retail items. Seville has a wide array of top end boutiques and shops, for those interested in buying clothes. It also has a number of popular chain outlets, here you can buy fashions at lower prices. If you have an eye for saving money, Seville has a number of popular markets where you will be able to find big savings on clothes and gifts. Like a lot of cities, Seville has a number of Shopping Centres with countless shops. There is also a number of specialist shops that offer items unique to Seville
Shopping Locations In Seville
Avenida Constitución - Cool Area of Unique and Secondhand Shops
Alameda - Trendy Shopping Area - Funky Shops and Outlets
Plaza de Armas - Shopping Mall / Shops / Restaurants
Nervión Plaza - Popular Shopping Area With Gift And Novelty Shops
Triana - Picturesque shopping area with novelty shops
Keeping Safe In Seville
Like any city Seville possess it's own good and bad points. it is important to be smart and you and your family with main safe and have great memories of this fantastic Spanish area. Before you set off, buy a good guide book and know where you are going, don't make it obvious you are a tourist by exposing expensive electronic goods and don't carry huge amounts of cash on your person. Don't venture too far from busy locations after dark and if you should get lost hail a taxi. You might be enjoying yourself, but still be alert. Stay street wise and you will have a great trip to Seville. On the whole Spain is a safe location with helpful and warm citizens. A bit of research is very valuable and if you know a city better, you will have a much better time there.
CarHire4Lower By Rick Lockwood
24 September 2017