Travel Guide
An Introduction To Seoul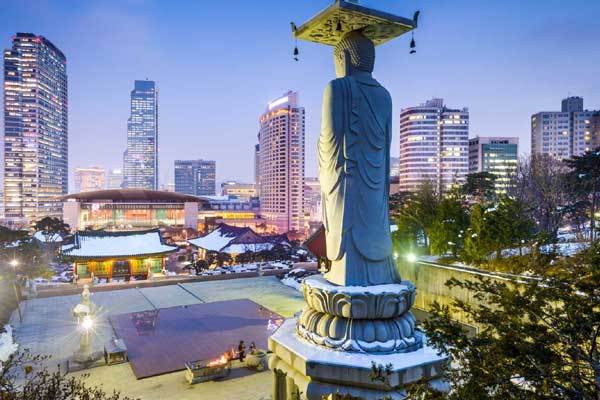 There are a number of reasons for a visit to Seoul, on offer is a wide range of attractions whether you are alone, a couple or a large group. We don't aim to sway your mind on what to do while in Seoul but share some of our knowledge about what is there. Like in other cities, there are attractions of good and poor quality to visit and if this visit is your first to Seoul or if you are a seasoned visitor, there is always something new to see or do. It can be wise to set in your mind what you want to do and see, and Seoul has plenty of interesting experiences that will create many memories.
Seoul Top 10 Attractions
During your visit in Seoul there are a lot of attractions that you should be aware of to possibly plan into your trip. The highly regarded Gyeonggi Province area of South Korea has sights and sounds you may know and perhaps others that aren't known to non local locals of Seoul we have collected a list of 10 to help you on your way:
1. National Museum of Korea
2. The War Memorial of Korea
3. Jamsil Baseball Stadium
4. Leeum Samsung Museum of Art
5. Bukhansan National Park
6. Samcheong-dong Bukchon
7. Gyeongbokgung Palace
8. Cheonggyecheon
9. N Seoul Tower
10. Namsan Park
These really are just a starting point if you have a good local book or guide you can seek out a bit more and if you have long enough in Seoul. You will discover other enjoyable locations and attractions about the Seoul vicinity of South Korea.
Getting Mobile In Seoul
Seoul is not a difficult city to navigate, when you have grasped the layout of the place and you are familiar with a couple of landmarks it should become pretty simple. You can discoverer a lot of the area on foot but ensure not to venture into unknown territory at night. If you want to cover more ground in Seoul there are a number of modes of transportation. Seoul has a huge subway system, The Seoul Metropolitan Subway has 18 total lines which serve Seoul, Incheon, Gyeonggi province. There is a good network of buses that tickets can be purchases to cover multiple journeys. Collect a Hire Car At Seoul Gimpo Airport, there is also the option to use Seoul Taxis, where a knowledgeable driver can offer ideas for places to visit. Whichever way you plan to explore Seoul make sure you see as much of the city as your can.
Seoul Metro Map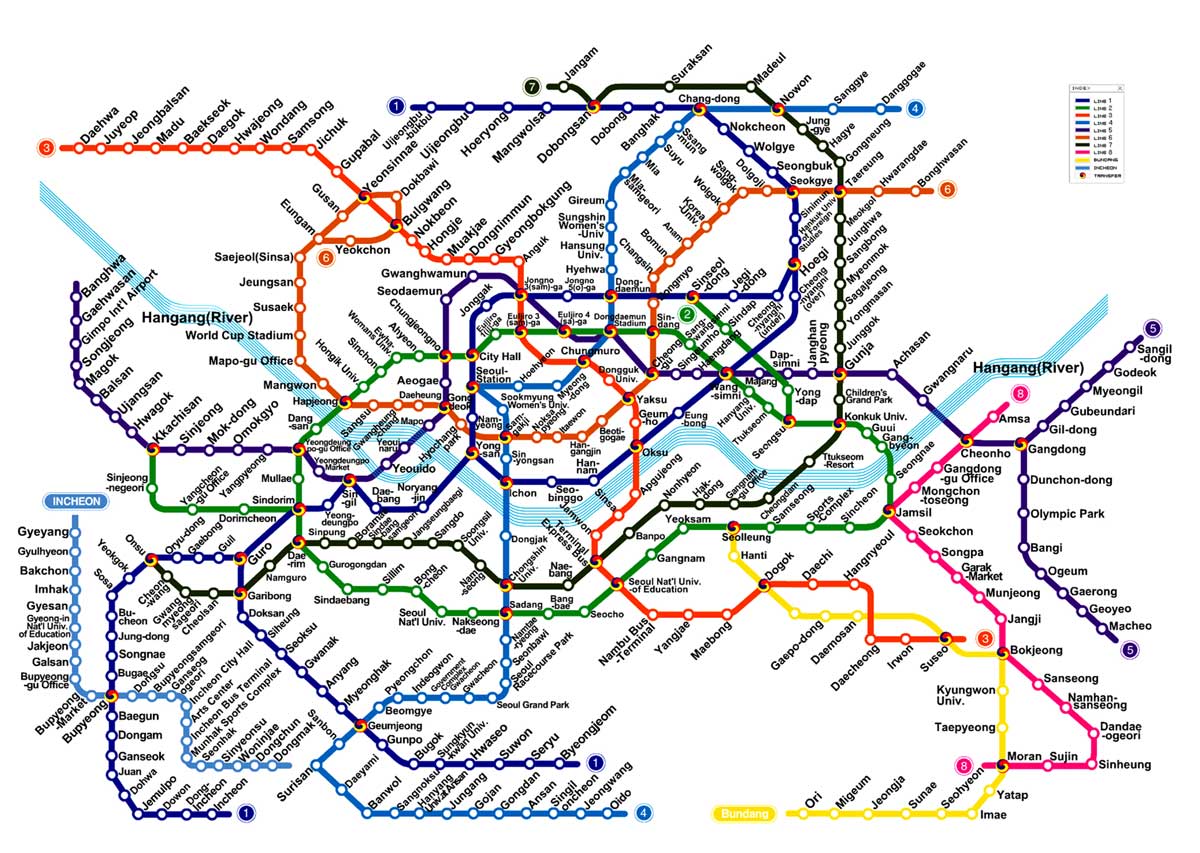 Hotels In Seoul
If you wish to reside in Seoul for a period longer than one day you will be looking for a place to sleep. Seoul has a wide range of places to bed down these includes high end, deluxed locations to more modest hotels, B&Bs and hostels. If you are visiting the city on business ensure the hotel you decide to select has suitable facilities and is in the right area for your meetings as the traffic in Seoul can result in problems at certain times of the day. If you are looking for a prestigious hotel to stay at there is a selection of top independent and chain hotels. Seoul also offers an excellent array of lower star hotel options that provide basic but suitable facilities for travellers. If you don't have a large budget there is a number of hostels and guest houses in the city which are a fine place to sleep overnight. Whatever accommodation type you select in Seoul ensure you take time to seek out deals that are available on countless travel web sites, often when there is a big event on in town.
Recommended Hotels In Seoul
1. JW Marriott Dongdaemun Square Seoul
2. The Grand Hotel Myeongdong
3. Lotte City Hotel Guro
4. The Shilla Seoul
5. Hotel ShinShin
Venues To Dine In Seoul
A wide number of places are available to eat at in Seoul, the sites where you select to eat at will be reflected by your budget. There are quite a lot of good cheap places that offer South Korean meals and don't break the bank. If the restaurant type you are looking for is of the high end there are a number of these, but be sure to have a prior reservation and ensure that your follow the dress code if there is one. If you want fast food there is regular names like Subway or McDonalds exist in the city, but if you are on the look out for something more authentic you should ask a local and see where they suggest. A key aspect of visiting a new city to try new things, this includes it's food There is a wide variety of places to dine in Seoul. whether it is a café, restaurant or the food that can be bought and eaten on the street. You should check local newspapers for offers and remember to try something new.
Recommended Places To Eat In Seoul
1. Gusto Taco
2. Mugyodong Bugeokukjib
3. The Griffin Bar
4. Vatos Urban Tacos Itaewon
5. Brera
The Districts Of Seoul
There are 25 Districts (Gu) in Seoul. The gu vary greatly in size (from 10km² to 47 km²) and people living there (from between 140,000 to 630,000). Songpa is the most populated district and Seocho is the largest.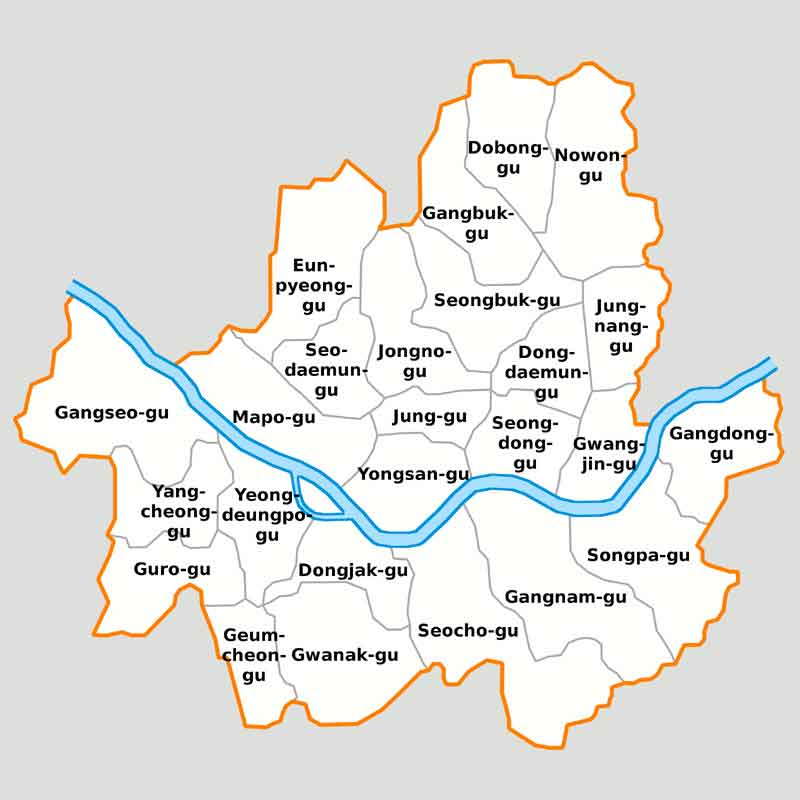 Seoul Key Facts
If you want to get to grips with a location such as Seoul it is always good to be armed with some basic facts. Here are a few that could prove useful.
Continent: Asia
Country: South Korea
Region: Seoul National Capital Area
International Dialing Code: +82
Seoul Coordinates: 37°34'N 126°58'E
Altitude: 38 m (125 ft)
Currency: South Korean Won (KRW)
Language: Korean
Seoul Time Zone: Korea Standard Time (UTC+9)
City Population: 10,117,909
Metro Population: 25,620,000
Temperature High In 85.3 °F / 29.6 °C
Temperature Low In -5.9°C /21.4°F
Keeping Safe In Seoul
Just like other cities Seoul has it's good points and bad points, it is key not to be too complacent and you'll remain safe and sound and have a great trip to this fantastic South Korean place. Take a good guide book and know where you are going, don't make it obvious you are a tourist by exposing expensive electronic goods and don't carry valuables or excessive amounts of cash on your person. Stick to well populated areas after dark and if you do get lost, stay calm and visit a shop to consult your guide book or map. Just because you are on vacation, don't switch off completely. Stay street wise and you will have a great trip to Seoul. On the whole South Korea is a very safe country with warm and friendly residents. A bit of research is very valuable and if you know a city better, you will have a much better time there.
CarHire4Lower By Rick Lockwood
13 September 2017