Travel Guide
An Introduction To Porto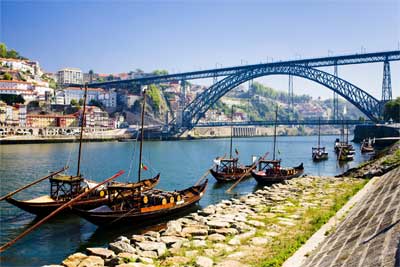 It's a fantastic idea to visit Porto, there is a wide variety of things to see and do no matter who you are travelling with. This article is not to blow your mind with everything that is going on in Porto but perhaps offer advice on what's there. Just like in other cities, there are plenty of good and bad places to visit and if it is the first time you are visiting Porto or if you are a seasoned visitor, there is always something new to see or do. It is often an idea to have a rough plan of places you wish to visit, and Porto has a number of really interesting experiences that you will remember for a long time.
Things To Do
During your time in Porto there are a lot of interesting places that you should be aware of to possibly plan into your trip. The esteemed Norte vicinity of Portugal has sights and sounds you may know and others that are less well known to outsiders of Porto we have collected a list of 10 to assist you:
1. Ponte D. Luis I
2. Zona Ribeirinha
3. Palacio da Bolsa
4. Rail Station Sao Bento
5. Livraria Lello
6. Sao Francisco Church (Igreja de S Francisco)
7. Casa da Musica
8. Serralves
9. Igreja do Carmo
10. Clerigos Tower (Torre dos Clerigos)
These are a simple starting point if you have a good local book or guide you can seek out a bit more and if you schedule enough time in Porto. You are sure to find other interesting locations and attractions in the Porto vicinity of Portugal.
Getting Around
Porto is a pretty simple place to get around, once you have an eye for the place and understand the layout with the help of some local landmarks you should be able to navigate around with ease. You can discoverer a lot of the area on foot but make sure you stick to places you know after dark. If you wish to cover larger distances across Porto there are a few more options. There is a good, reliable bus network where passes can be bought to cover you for multiple journeys. There are some fantastic Car Rental deals in Porto, there is also the alternative to use Porto Taxis, but be aware of heavy traffic at busy times. What ever method you use to explore Porto make sure you see as much of the city as your can.
Porto Metro Map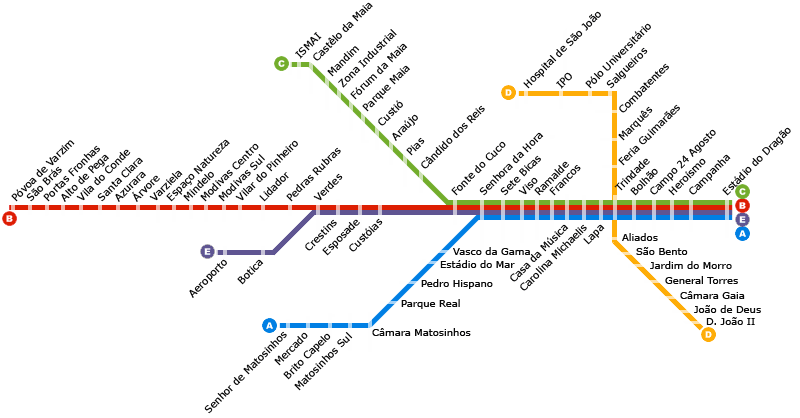 Places To Stay
If you are staying in Porto for longer than one night you will need to find a suitable place to stay. Porto offers a broad range of places to stay these consist of hotels at the high end of the star range to lower end hotels, bed and breakfasts and hostels. If you are a business traveller ensure the hotel you decide to select has facilities to suit you and is OK for your needs as the roads in Porto may result in problems at certain times. If you are seeking out more luxury accommodation there is a selection of top chain and independent hotels. Porto also offers a good selection of lower star hotels that offer simple but functional facilities for visitors to the city. If you do not have a huge accommodation budget there is a number of hostels and guest houses in the city which are a good place to rest your head. Whichever type of accommodation you select in Porto ensure you take time to seek out deals that are available on countless travel web sites, often these are out of season or when a home sports team isn't playing a game.
Recommended Hotels In Porto
1. InterContinental Porto Palacio das Cardosas
2. Tiara Park Atlantic Porto
3. Eurostars Oporto
4. Palacio do Freixo
5. Hotel B&B Porto Centro
Places To Eat
There are endless places to eat in Porto, the venue you are limited to is only bound by your budget and tastes. There are a number a fantastic low cost restaurants that serve Portuguese menus that will not cost the Earth. If you are seeking out a high quality dining venue these exist in numbers, but be sure to have placed a prior booking also ensure you are dressed correctly. If you want fast food there is regular names like Subway or McDonalds exist in the city, but if you are on the look out for something more authentic you should try asking a local or a taxi driver where they suggest. A fundamental part of enjoying a city is to try it's local food There is a wide variety of places to dine in Porto. whether that is a café, a fine restaurant or food from a street vendor. You should check local newspapers for offers and remember to try something new.
Recommended Places To Eat
1. O Paparico
2. ODE Porto Wine House
3. Essencia Restaurante Vegetariano
4. Camafeu
5. Papavinhos
Retail / Shops In Porto
Porto is great for shopping, there are some great areas of the city where you are able to pick up gifts and fantastic retail items. Porto has a wide array of top end boutiques and shops, for those interested in buying clothes. It also offers high street chain outlets, here you can buy fashions at lower prices. If you are trying to find a bargain, Porto has a number of popular markets where you will be able to find big savings on clothes, household items and gifts. Like a lot of cities, Porto has a number of Shopping Centres with countless shops. There is also a number of specialist shops that offer items with a twist unique to Porto
Shopping Locations
Rua de Cedofeita - Popular Shopping Street / Famous Chain Stores
Rua Santa Catarina - Popular Shopping Area With Gift And Novelty Shops
Galeria Peninsula - Shopping Mall / Shops / Restaurants
Rua do Miguel Bombarda - High End shopping Area With Places To Dine
Rua do Almada - Trendy Shopping Area - Funky Shops and Outlets
Porto Facts And Statistics
When getting to grips with a city such as Porto it is always good to be armed with some basic facts. These is a few that could come in handy.
Continent: Europe
Country: Portugal
Region: Norte
International Dialing Code: 351
Porto Coordinates: 41.1621° N, 8.6220° W
Altitude: 0 m (0 ft)
Currency: Euro (EUR)
Language: Portuguese
Porto Time Zone: WET (UTC0)
City Population: 237,584
Metro Population: 1,672,664
Temperature High In 78.3 °F / 25.7 °C
Temperature Low In 41.4°F / 5.2 °C

Keeping Safe
Like other cities Porto possess it's own good and bad points. it is important to be smart and you will be OK and have a great trip to this fantastic Portuguese city. Ensure you have a good guide so as to know where you are heading, don't make it obvious you are a tourist by carrying an expensive camera around your neck and don't wear expensive jewellery and excessive cash on your person. Stick to areas you know after dark and if you do get lost, ask an official or hail a taxi. Just because you are enjoying yourself, don't switch off your senses completely. Stay street wise and you will have a great trip to Porto. On the whole Portugal is a very safe country with warm and friendly residents. A bit of research goes a long way and if you have a picture in your mind of the city you can understand it better.
Sports In Porto
Porto is a city that really enjoys it's sport there are a number of professional sports teams within Porto that if you get the chance are well worth a visit at some truly great sporting venues.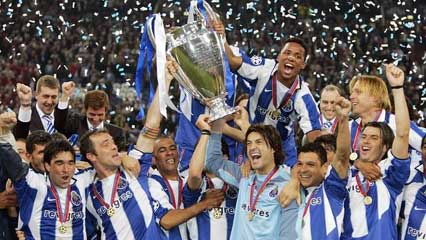 Football (Soccer) FC Porto Estádio do Dragão
Football (Soccer) Boavista Estádio do Bessa




CarHire4Lower By Rick Lockwood
09 March 2015