Travel Guide
Milan Travel Overview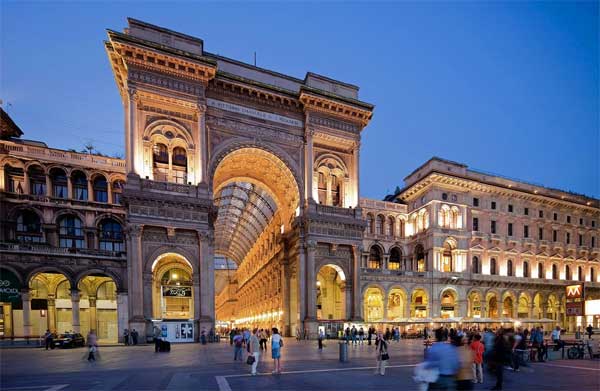 Considering a trip to Milan, on offer is a varied selection of attractions whether you are with a large or small group. We don't plan to suggest which sights and attractions you visit while in Milan but rather just provide guidance and offer advice on what is there. Comparable with other cities, there are great and not so great places to visit and if this visit is your first to Milan or if you have been there before, it's important you make the most of your time there. It is good to have an idea of what type of trip you want to make, and Milan has a number of really interesting experiences that you will remember for a long time.
Milan Top 10 Attractions
During your visit in Milan there are a lot of attractions which are worth some of your time. The highly regarded Lombardy area of Italy has attractions which you could be familiar and maybe others that are not known to non local locals of Milan we have assembled a List of Ten to help you on your way:
1. Chiesa di San Maurizio al Monastero Maggiore
2. Cathedral (Duomo)
3. Santa Maria Presso di San Satiro
4. Basilica di S. Ambrogio
5. Monumental Cemetery (Cimitero Monumentale)
6. Santa Maria delle Grazie
7. Villa Necchi Campiglio
8. Museo Poldi Pezzoli
9. Gallerie d'italia piazza della Scala
10. Ambrosiana Library & Picture Gallery (Biblioteca-Pinacoteca Ambrosiana)
These are a simple starting point if you have a good travel guide and map you with discover these more and depending how much time you have in Milan. You will surely discover an array of interesting attractions and locations about the Milan area of Italy.
Transport In Milan
Milan is not a difficult city to navigate, once you have your bearings and understand the layout with the help of some local landmarks you will be able to get round with ease. You can cover a lot of the city on foot but ensure not to venture into unknown territory at night. If you want to travel greater distances across Milan there are some other alternatives to get around. Milan has an extensive Metro System (Metropolitana di Milano) The network consists of 4 lines, identified by different numbers and colors, with a total network length of 101 kilometres (63 miles)and a total of 113 stations. There is a city wide bus system where passes can be attained to include multiple journeys. If you need flexible transport you can Rent A Car in Milan, there is also the option to use Milan Taxis, where a knowledgeable driver can offer ideas for places to visit. Whichever way you plan to explore Milan make sure you see as much of the city as your can.
Milan Metro Map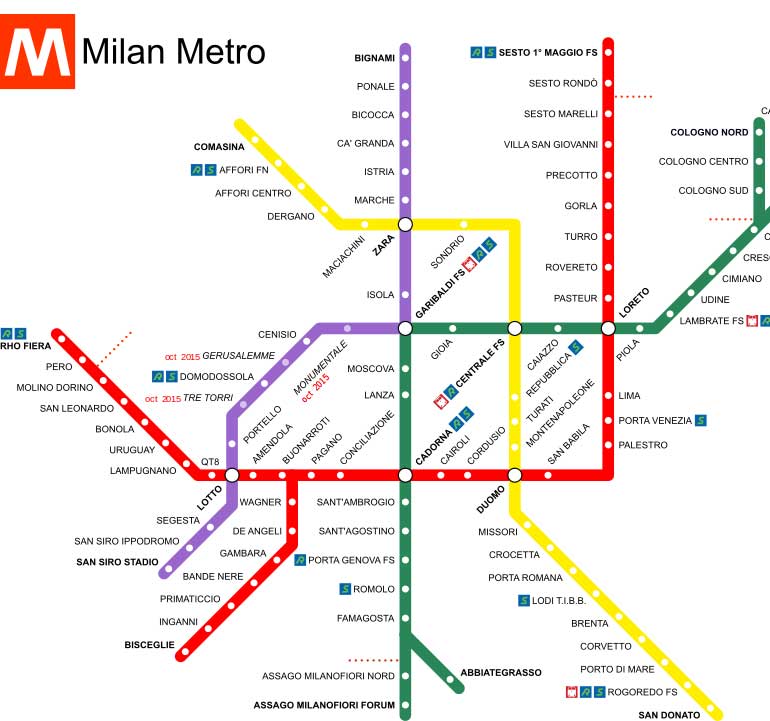 Accommodation In Milan
If you wish to stay in Milan for longer period of time you'll need a place to rest. Milan has a wide range of places to bed down these consist of hotels at the high end of the star range to more modest hotels, B&Bs and hostels. If you are a business traveller ensure that the hotel you pick has suitable facilities and is in the right area for your meetings as the traffic in Milan can result in problems at certain times of the day. If you are seeking out more luxury accommodation there is a selection of top chain and independent hotels. Milan also offers a good selection of lower star hotels that offer basic but suitable facilities for travellers. If you do not have a huge accommodation budget there is a number of guest houses and hotels in the area which are a fine place to sleep overnight. Whichever type of accommodation you select in Milan ensure you take time to seek out deals that are available on countless travel web sites, often these are out of season or when a home sports team isn't playing a game.
Recommended Hotels In Milan
1. The Yard Suite & Dependance
2. Park Hyatt Milan
3. UNA Maison Milano
4. Hotel Spadari al Duomo
5. Chateau Monfort
Places To Eat In Milan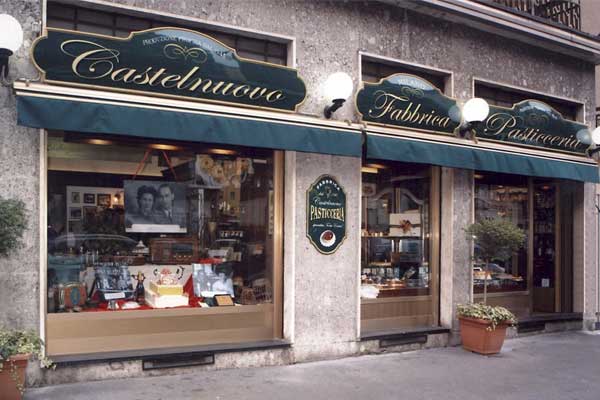 A number of interesting locations exist to dine in Milan, the venue you are limited to is only bound by your budget and tastes. There are a high number of great low cost venues that provide Italian meals and don't break the bank. If the restaurant type you are looking for is of the high end these exist in numbers, but be sure to have placed a prior booking and ensure that your follow the dress code if there is one. If you just want quick food there are the familiar names such as Burger King, McDonalds etc, but if you are seeking something real you should ask a local and see where they suggest. Part and parcel of visiting a city is to enjoy everything about it, including it's food There is a wide variety of places to dine in Milan. whether it is a café, restaurant or the food that can be bought and eaten on the street. Check out local guides and press for offers and remember to try something new.
Recommended Places To Eat In Milan
1. Pasticceria Castelnuovo
2. La Gelateria della Musica
3. Hana Restaurant
4. Ristorante Sottomarino
5. C'era una Volta una Piada
Shopping In Milan
Milan is a great place for shopping, there are some great areas of the city where you are able to pick up gifts and fantastic retail items. Milan has a wide array of top end boutiques and shops, for those interested in buying clothes. It also has a number of popular chain outlets, here you can buy fashions at lower prices. If you are trying to find a bargain, Milan has a number of stalls and markets where you will be able to find big savings on clothes, household items and gifts. Like a lot of cities, Milan has a number of Malls where you can shop till you drop. There is also a number of specialist shops that offer items unique to Milan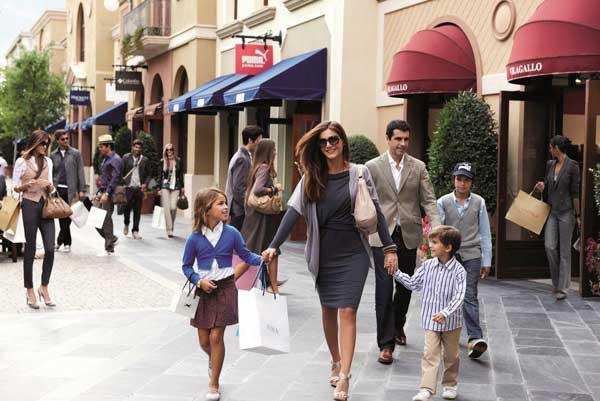 Shopping Locations In Milan
Galleria Vittorio Emanuele II - High End Shops With Designer Brands
la Rinascente Milano - Picturesque shopping area with novelty shops
Corso Venezia - Luxury Shopping Area
Corso di Porta Ticinese - Cool Mixture Of Shops And Market Stalls
Corso Buenos Aires - Popular Shopping Area With Gift And Novelty Shops
Milan Key Facts
If you are getting to grips with a new city like Milan it is good practice to have some inside knowledge. Here are a few that could prove useful.
Continent: Europe
Country: Italy
Region: Lombardy
International Dialing Code: 39
Milan Coordinates: 45.4640° N, 9.1916° E
Altitude: 120 m (390 ft)
Currency: Euro (EUR)
Language: Italian
Milan Time Zone: UTC/GMT +1 hour
City Population: 1,350,267
Metro Population: 3.123.205
Temperature High In 23.1°C / 73.6°F
Temperature Low In -1.9°C /28.6°F
Sports Teams In Milan
Milan is a city that really enjoys it's sport there are a number of professional sports teams within Milan that if you get the chance are certainly worthy of a visit at some truly great sporting venues.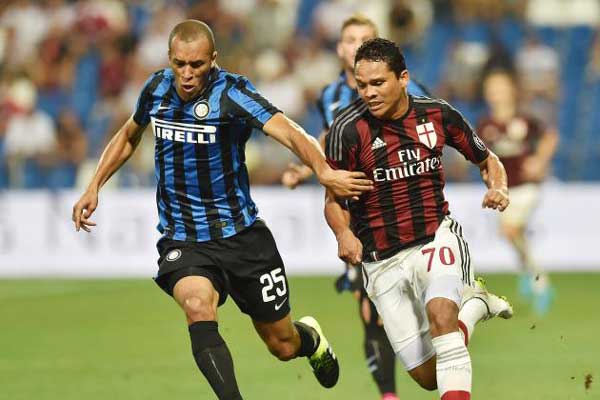 Football Internazionale Milan (Inter Milan) Giuseppe Meazza (San Siro)
Football AC Milan Giuseppe Meazza (San Siro)
Basketball Olimpia Milano Mediolanum Forum
Ice Hockey Milano Rossoblu Stadio del Ghiaccio Agorà
Keeping Safe In Milan
Like any city Milan has positive and negative points, it is clever to have you wits about you and you will remain safe and hold fond memories of this great Italian place. Take a good map and guide and be aware of where you are going, try not to make it obvious you are a visitor to the city by flaunting expensive devices around and don't carry huge amounts of cash on your person. Try and stick to well lit areas that are populated after nightfall and if you do get lost, ask an official or hail a taxi. Just because you are enjoying yourself, don't switch off your senses completely. Bear this is mind and you will have a great time in Milan. On the whole Italy is a welcoming place with great locals. A bit of research is very valuable and if you have a picture in your mind of the city you can understand it better.
CarHire4Lower By Rick Lockwood
08 October 2017