Like & Share Milan, Italy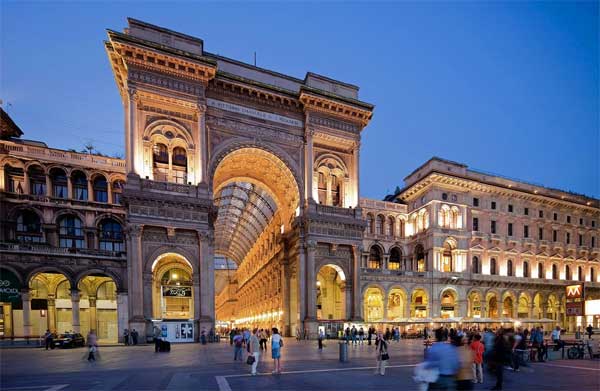 Get Your Teeth Into Milan
There are many reasons to visit Milan, on offer is a varied selection of attractions regardless of whether you are travelling alone, with family or part of a group. We don't aim to sway your mind on what to do while in Milan but rather just provide guidance and offer advice on what is there. Comparable with other cities; there are great and not so great places to visit and if it is the first time you are visiting Milan or if you have paid a visit before; enjoying yourself and making the most of your time there is paramount. It can be wise to set in your mind what you want to do and see; and Milan has a number of really interesting experiences that you will remember for a long time.
Milan Ten Top Attractions
While you are in Milan there are a lot of interesting places that you should really plan into your trip. The Lombardy area of Italy has attractions which you could be familiar and others you won't know to outsiders of Milan we have put together a Top 10 list to guide you:
1. Chiesa di San Maurizio al Monastero Maggiore
2. Cathedral (Duomo)
3. Santa Maria Presso di San Satiro
4. Basilica di S. Ambrogio
5. Monumental Cemetery (Cimitero Monumentale)
6. Santa Maria delle Grazie
7. Villa Necchi Cam
Transport In Milan
Milan is not a difficult city to navigate; once you have your bearings and understand the layout with the help of some local landmarks you should be able to navigate around with ease. You can cover a lot of the city on foot but ensure not to venture into unknown territory at night. If you want to travel greater distances across Milan there are a number of modes of transportation. Milan has an extensive Metro System (Metropolitana di Milano) The network consists of 4 lines identified by different numbers and colors with a total network length of 101 kilometres (63 miles)and a total of 113 stations. There is a good network of buses that passes can be attained to include multiple journeys. Collect a Rental Car in Milan, there is also the option to use Milan Taxis, but be aware of heavy traffic at busy times. Whichever way you plan to explore Milan make sure you see as much of the city as your can.
Hotels In Milan
If you are staying in Milan for a great period you'll need a place to rest. Milan has a wide range of places to bed down these includes high end; deluxed locations to lower end hotels; bed and breakfasts and hostels. If you are a business traveller ensure that the hotel you pick has suitable facilities and is in the right area for your meetings as the traffic in Milan may result in problems at certain times. If you are seeking out more luxury accommodation there is a selection of top chain and independent hotels. Milan also offers a good selection of lower star hotels that offer simple but functional facilities for visitors to the city. If you do not have a huge accommodation budget there is a number of hostels and guest houses in the city which are a fine place to sleep overnight. Whatever accommodation type you select in Milan try and make time to see if any bargains exists on a wide array of travel web sites, often when there is a big event on in town.

Recommended Hotels In Milan
1. The Yard Suite & Dependance
2. Park Hyatt Milan
3. UNA Maison Milano
4. Hotel Spadari al Duomo
5. Chateau Monfort

Venues To Dine In Milan
There are many different places to eat in Milan; the venue you are limited to is only bound by your budget and tastes. There are quite a lot of dining venues that offer Italian meals and don't break the bank. If the restaurant type you are looking for is of the high end there are a wide number of these; but you will need to make a reservation and make sure you are dressed suitably. If you want fast food there is regular names but if you are seeking something real you should ask a local and see where they suggest. A fundamental part of enjoying a city is to try it's local food There is a wide variety of places to dine in Milan. whether that is a cafe; a fine restaurant or food from a street vendor. You should try and seek your local vouchers and ensure that you try something new.

Recommended Places To Eat In Milan
1. Pasticceria Castelnuovo
2. La Gelateria della Musica
3. Hana Restaurant
4. Ristorante Sottomarino
5. C'era una Volta una Piada

Milan Facts And Statistics
When trying to understand a new location like Milan it is good practice to have some inside knowledge. There are some here that could help you.

Continent: Europe
Country: Italy
Region: Lombardy
International Dialing Code: 39
Milan Coordinates: 45.4640 N 9.1916 E
Altitude: 120 m (390 ft)
Currency: Euro (EUR)
Language: Italian
Milan Time Zone: UTC/GMT +1 hour
City Population: 1 350 267
Metro Population: 3.123.205
Temperature High In 23.1 C / 73.6 F
Temperature Low In -1.9 C /28.6 F
Any Problems?
Let CarHire4Lower know by social media if any of the information regarding , or any other page is inaccurate and we will ensure it is corrected as soon as possibe.

CarHire4Lower Twitter Profile

CarHire4Lower Facebook Page

CarHire4Lower Linkedin Page