Travel Guide
An Introduction To Nantes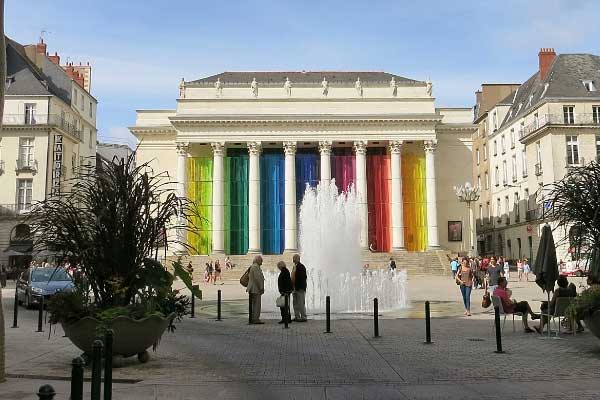 It's wonderful to pay a visit to Nantes, there is a huge number of things to see and do whether you are alone, a couple or a large group. We don't plan to suggest which sights and attractions you visit while in Nantes but rather just provide guidance and offer advice on what is there. Like any city, there are good places and bad places to visit and if it is the first time you are visiting Nantes or if you are a seasoned visitor, there is always something new to see or do. It is good to have an idea of what type of trip you want to make, and Nantes has plenty of interesting experiences that will create many memories.
Nantes Top Ten
While you are in Nantes a number of great attractions exist that you should be aware of to possibly plan into your trip. The esteemed Pays de la Loire district of France has visitor attractions which you could know and perhaps others that aren't known to outsiders of Nantes we have collected a list of 10 to help you:
1. Les Machines de L'ile
2. Chateau des Ducs de Bretagne
3. Cathedrale de Saint-Pierre et Saint-Paul
4. Passage Pommeraye
5. Chateau de Goulaine
6. Vincent Guerlais
7. Musee Jules Verne de Nantes
8. Musee de l'Imprimerie
9. Musee des Beaux-Arts de Nantes
10. Melocotton Cafe
This collection are just to get you going if you have taken a quality guide book you can expand on these and depending how much time you have in Nantes. You will discover other enjoyable attractions and locations about the Nantes vicinity of France.
Transportation In Nantes
Nantes is not a difficult city to navigate, when you have grasped the layout of the place and you are familiar with a couple of landmarks it should become pretty simple. You can discoverer a lot of the area on foot but ensure not to venture into unknown territory at night. If you want to cover more ground in Nantes there are a number of modes of transportation. Nantes has and 83 station tramway system that has 3 lines. Known locally as the 'Tramway de Nantes'. There is a good network of buses that tickets can be purchases to cover multiple journeys. Collect a Hire Car in Nantes, there is also the option to use Nantes Taxis, where a knowledgeable driver can offer ideas for places to visit. Whichever way you plan to explore Nantes make sure you see as much of the city as your can.

Nantes Tram Map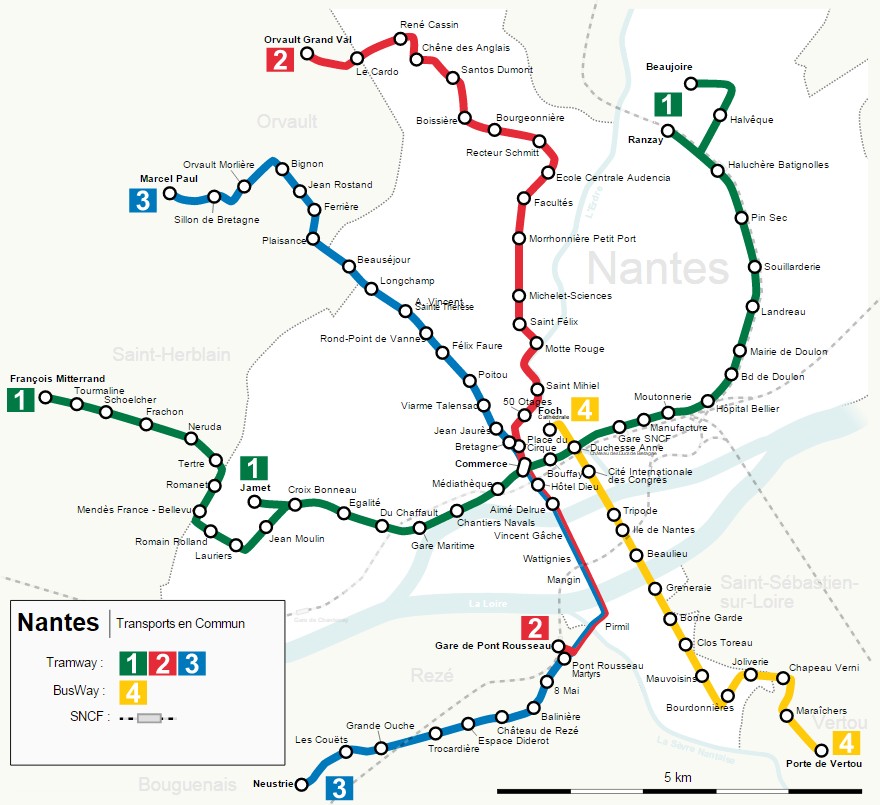 Places To Stay In Nantes
If you wish to stay in Nantes for longer period of time you will be looking for a place to sleep. Nantes offers a broad range of places to stay these include hotels varying from the higher end of the star range to lower end hotels, bed and breakfasts and hostels. If you are visiting the city on business ensure that the hotel you pick has the business facilites that suit your needs, check the area location is good as traffic in Nantes can result in problems at certain times of the day. If you are looking for a prestigious hotel to stay at there is a selection of top independent and chain hotels. Nantes also offers a good selection of lower star hotels that offer simple but functional facilities for visitors to the city. If you don't have a large budget there is a number of guest houses and hotels in the area which are a fine place to sleep overnight. Whichever type of accommodation you select in Nantes try and make time to see if any bargains exists on a wide array of travel web sites, often when there is a big event on in town.
Recommended Hotels In Nantes
1. Oceania Hotel de France
2. Okko Nantes Chateau
3. Hotel Sozo
4. Hotel Pommeraye
5. Radisson Blu Hotel, Nantes
Dining In Nantes
There are endless places to eat in Nantes, the venue you are limited to is only bound by your budget and tastes. There are quite a lot of dining venues that offer French menus that will not cost the Earth. If the restaurant type you are looking for is of the high end there are a wide number of these, but you will need to make a reservation also check the dress code. If you just want quick food there are the familiar names , but if you are seeking something real find somewhere that's really busy. A fundamental part of enjoying a city is to try it's local food There is a wide variety of places to dine in Nantes. whether that is a café, a fine restaurant or food from a street vendor. You should check local newspapers for offers and try something that you have never had before.
Recommended Places To Eat In Nantes
1. Anatolia
2. LuluRouget
3. l'u.ni
4. By Sainbioz
5. Creperie Ker Breiz
Nantes Information
When getting to grips with a city such as Nantes it is a good idea to have some good local information. Here are a number that could really help you out.
Continent: Europe
Country: France
Region: Pays de la Loire
International Dialing Code: + 33
Nantes Coordinates: 47°13'05?N 1°33'10?W
Altitude: 26 m (85 ft)
Currency: Euro (EUR)
Language: French
Nantes Time Zone: CET (UTC+1h)
City Population: 284,970
Metro Population: 873,133
Temperature High In 25.0°C (77 °F)
Temperature Low In 2.9°C (37.2 °F)
Keeping Safe In Nantes
Like any city Nantes has it's pros and cons, it is clever to have you wits about you and you and your family with main safe and undertake a great trip to this fantastic French area. Take a good map and guide and be aware of where you are going, don't alert people to the fact you are unfamiliar wit h the city by flaunting expensive devices around and try not to carry more cash than you need on your person. Stick to areas you know after dark and if you should get lost hail a taxi. Just because you are enjoying yourself, don't switch off your senses completely. Stay street wise and you will have a great trip to Nantes. On the whole France is a very safe country with warm and friendly residents. A bit of research goes a long way and if you know a city better, you will have a much better time there.
CarHire4Lower By Rick Lockwood
1 October 2017