Travel Guide
An Overview Of Montpellier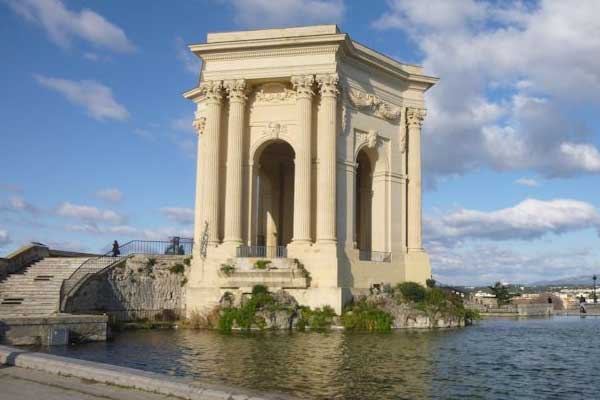 It's wonderful to pay a visit to Montpellier, there is a huge number of things to see and do regardless of the size of your travelling party. We only wish to offer a few suggestions of what to do in Montpellier but perhaps offer advice on what's there. Just like in other cities, there are plenty of good and bad places to visit and if this visit is your first to Montpellier or if you have been there before, it's important you make the most of your time there. It is often an idea to have a rough plan of places you wish to visit, and Montpellier has a number of really interesting experiences that you will remember for a long time.
Montpellier Things To See And Do
While paying a visit in Montpellier there are a number of attractions which are worth some of your time. The celebrated Languedoc-Roussillon locality of France has attractions that you may know and maybe others that are not known to outsiders of Montpellier we have assembled a List of Ten to assist you:
1. Parc Zoologique Henri de Lunaret
2. Place de la Comedie
3. Pharmacie de la Misericorde
4. Espiguette Beach
5. Chateau de Flaugergues
6. Aquarium Mare Nostrum
7. Cathedrale St-Pierre
8. Musee Fabre
9. Jardin des Plantes
10. Esplanade d'Europe
This collection are just to get you going if you have a good local book or guide you will be able to find more and if you schedule enough time in Montpellier. You will surely discover an array of interesting locations and attractions about the Montpellier vicinity of France.
Getting Around In Montpellier
Montpellier is a pretty simple place to get around, when you have grasped the layout of the place and understand the layout with the help of some local landmarks you will be able to get round with ease. You can cover a lot of the city as a pedestrian but ensure not to venture into unknown territory at night. If you wish to traverse greater distances across Montpellier there are a few more options. The tramway in Montpellier 'Tramway de Montpellier' has 4 lines that cover 84 stations and is a great way to get around the city. There is a good network of buses that passes can be bought to include multiple trips. Collect a Rental Car at Montpellier Airport, there is also the alternative to use Montpellier Taxis, where the driver can offer up local knowledge. What ever method you use to explore Montpellier ensure you see as much of it as you can.
Montpellier Tram Map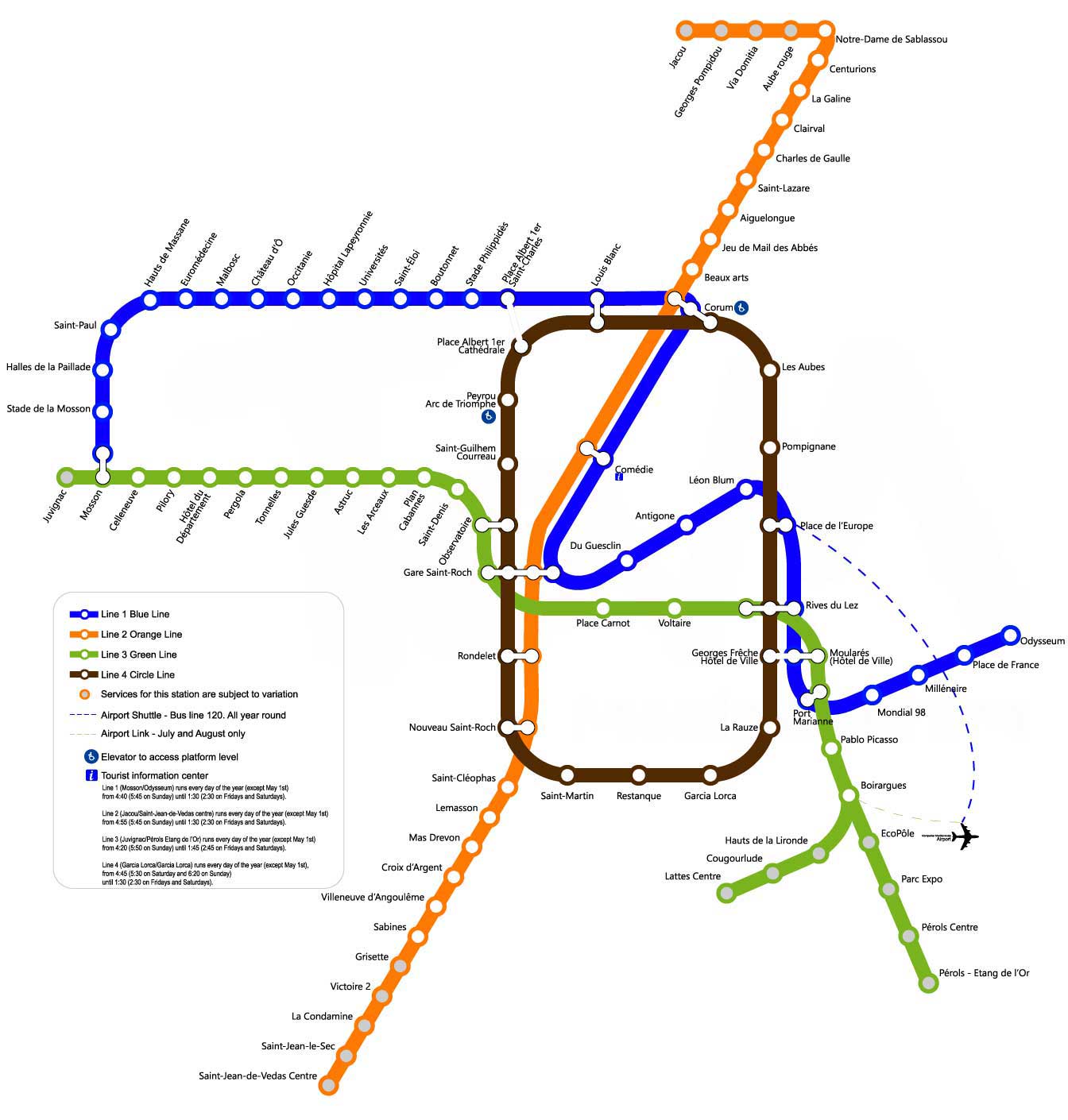 Large Montpellier Tram Metro Map
Hotels In Montpellier
If you plan to stay in Montpellier for a period longer than one day you'll need a place to rest. Montpellier offers a broad range of places to stay these include hotels varying from the higher end of the star range to lower end hotels, bed and breakfasts and hostels. If you are visiting the city on business ensure the hotel you decide to select has facilities to suit you and is OK for your needs as the roads in Montpellier can cause problems at certain times of the day. If you are seeking out more luxury accommodation there is a selection of top independent and chain hotels. Montpellier also offers a good selection of lower star hotels that offer simple but functional facilities for visitors to the city. If you don't have a large budget there is a number of hostels and guest houses in the city which are a good place to rest your head. Whatever accommodation type you select in Montpellier ensure you take time to seek out deals that are available on countless travel web sites, often when there is a big event on in town.
Recommended Hotels In Montpellier
1. Best Western Eurociel Centre
2. Pullman Montpellier Centre
3. Hotel du Parc
4. Domaine de Verchant
5. Ibis Styles Montpellier Centre Comedie
Venues To Dine In Montpellier
A number of places exist to dine in Montpellier, the place you dine at will reflect your tastes and budget. There are quite a lot of good cheap places that offer French meals and don't break the bank. If the restaurant type you are looking for is of the high end there are a number of these, but be sure to have a prior reservation also ensure you are dressed correctly. If you want fast food there is regular names , but if you are seeking something real you should ask a local and see where they suggest. Part and parcel of visiting a city is to enjoy everything about it, including it's food There is a wide variety of places to dine in Montpellier. whether that is a café, a fine restaurant or food from a street vendor. You should try and seek your local vouchers and try something that you have never had before.
Recommended Places To Eat In Montpellier
1. Les 40 Degres
2. Le Pat'Daniel's
3. L'idee Saveurs
4. Leclere Cuisine D'Arrivage
5. l'alliance des plaisirs
Montpellier Information
When getting to grips with a city such as Montpellier it is always good to be armed with some basic facts. These is a few that could come in handy.
Continent: Europe
Country: France
Region: Languedoc-Roussillon
International Dialing Code: + 33
Montpellier Coordinates: 43°36'43?N 3°52'38?E
Altitude: 7–121 m (23–397 ft)
Currency: Euro (EUR)
Language: French
Montpellier Time Zone: CET (UTC+1h)
City Population: 268,456
Metro Population: 268,456
Temperature High In 29.3°C (84.7°F)
Temperature Low In 2.8°C (37 °F)
Keeping Safe In Montpellier
Just like other cities Montpellier has positive and negative points, it is wise to maintain your wits about you and you will remain safe and undertake a great trip to this fantastic French location. Ensure you have a good guide so as to know where you are heading, don't make it obvious you are a tourist by carrying an expensive camera around your neck and don't carry your passport and large amounts of cash on you. Try and stick to well lit areas that are populated after nightfall and if you do discover you have lost your way, don't panic and go into a shop and ask for help. You might be enjoying yourself, but still be alert. Stay street wise and you will have a great trip to Montpellier. On the whole France is a safe location with helpful and warm citizens. A bit of research is very valuable and if you know a city better, you will have a much better time there.
CarHire4Lower By Rick Lockwood
1 October 2017