Travel Guide
An Introduction To Helsinki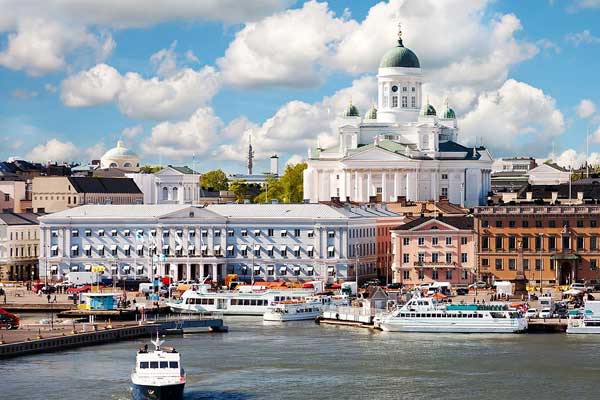 There are plenty of reasons to come to Helsinki, there is a wide variety of things to see and do regardless of the size of your travelling party. This article is not to blow your mind with everything that is going on in Helsinki but rather just provide guidance and offer advice on what is there. Comparable with other cities, there are great and not so great places to visit and if it is the first time you are visiting Helsinki or if you have paid a visit before, enjoying yourself and making the most of your time there is paramount. It is good to have an idea of what type of trip you want to make, and Helsinki has a wide array of exciting places to visit that with stick with you for a long time.
Helsinki Things To See And Do
During your time in Helsinki there are a lot of interesting places that are certainly worth visiting. The popular Uusimaa position of Finland has visitor attractions which you could know and others which aren't that familiar to non local locals of Helsinki we have collected a list of 10 to guide you:
1. Fortress of Suomenlinna
2. Seurasaari Open-Air Museum
3. Rock Church (Temppeliaukio Kirkko)
4. Uspenski Cathedral (Uspenskin Katedraali)
5. Esplanade
6. Kotiharjun
7. Yrjonkadun Swimming Hall
8. Hakaniemi Market Square
9. Pihlajasaari Recreational Park
10. Lutheran Cathedral (Tuomiokirkko)
These really are just a starting point if you have a good travel guide and map you can expand on these and if you schedule enough time in Helsinki. You are sure to find other interesting locations and attractions in and around the Helsinki area of Finland.
Transport In Helsinki
Helsinki is a pretty simple place to get around, when you have grasped the layout of the place and understand the layout with the help of some local landmarks you will be able to get round with ease. You can cover a lot of the city as a pedestrian but ensure not to venture into unknown territory at night. If you wish to traverse greater distances across Helsinki there are a few more options. Helsinki has a Metro System with 2 lines that cover 17 stations around the city. There is a good network of buses that passes can be bought to include multiple trips. Collect a Rental Car in Helsinki, there is also the alternative to use Helsinki Taxis, where the driver can offer up local knowledge. What ever method you use to explore Helsinki ensure you see as much of it as you can.
Helsinki Metro Map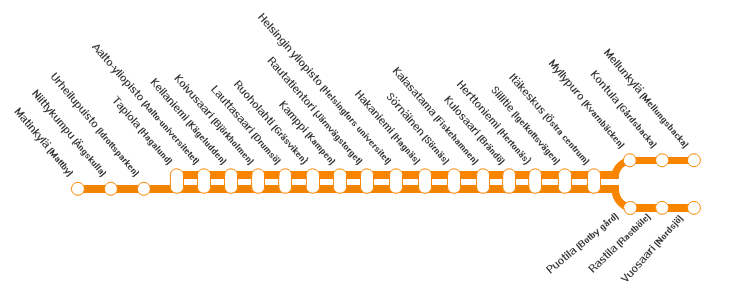 Hotels In Helsinki
If you wish to stay in Helsinki more than one night you will need to find a place to stay. Helsinki offers a broad range of facilities to sleep these include hotels varying from the higher end of the star range to lower end hotels, bed and breakfasts and hostels. If you are in town on business ensure the hotel you decide to select has facilities to suit you and is OK for your needs as the roads in Helsinki can result in problems at certain times of the day. If you are seeking out more luxury accommodation there is a selection of top independent and chain hotels. Helsinki also offers an excellent array of lower star hotel options that provide simple but functional facilities for visitors to the city. If you do not have a huge accommodation budget there is a number of hostels and guest houses in the city which are a fine place to sleep overnight. Whichever type of accommodation you select in Helsinki ensure you take time to seek out deals that are available on countless travel web sites, often when there is a big event on in town.
Recommended Hotels In Helsinki
1. Hotel F6
2. Fabian Hotel
3. Hotel Indigo Helsinki - Boulevard
4. Hotel Lilla Roberts
5. Hilton Helsinki Strand
Places To Eat In Helsinki
There are endless places to eat in Helsinki, the venue you are limited to is only bound by your budget and tastes. There are quite a lot of good cheap places that offer Finnish meals that won't leave you out of pocket. If the restaurant type you are looking for is of the high end there are a wide number of these, but you will need to make a reservation and make sure you are dressed suitably. If you just want quick food there are the familiar names , but if you are on the look out for something more authentic find somewhere that's really busy. A key aspect of visiting a new city to try new things, this includes it's food There is a wide variety of places to dine in Helsinki. whether it is a café, restaurant or the food that can be bought and eaten on the street. Check out local guides and press for offers and try something that you have never had before.
Recommended Places To Eat In Helsinki
1. Passio Kitchen and Bar
2. Ragu
3. Olo Ravintola
4. Juuri
5. Ravintola Kuu
Helsinki Facts And Statistics
When getting to grips with a city such as Helsinki it is essential to have to facts. Here are a number of facts that could be of help to you.
Continent: Europe
Country: Finland
Region: Uusimaa
International Dialing Code: +358
Helsinki Coordinates: 60°10'15?N 024°56'15?E
Altitude: 7m / 2 3feet
Currency: Euro (EUR)
Language: Finnish
Helsinki Time Zone: EET (UTC+2)
City Population: 629,512
Metro Population: 1,441,601
Temperature High In 21.5°C (70.7°F)
Temperature Low In -7.4°C (18.7°F)
Keeping Safe In Helsinki
Like other cities Helsinki has it's good points and bad points, it is important to be smart and you will be OK and have a great trip to this fantastic Finnish area. Take a good guide book and know where you are going, don't make it obvious you are a novice to the cities geography by carrying an expensive camera around your neck and try not to carry more cash than you need on your person. Don't stray too far into unknown areas after sunset and if you loose your way, hail a cab. Just because you are on vacation, don't switch off completely. Bear this is mind and you will have a great time in Helsinki. As a rule Finland is a safe location with helpful and warm citizens. A bit of research is very valuable and if you have a picture in your mind of the city you can understand it better.
CarHire4Lower By Rick Lockwood
20 September 2017