Travel Guide
The Basics Of Calgary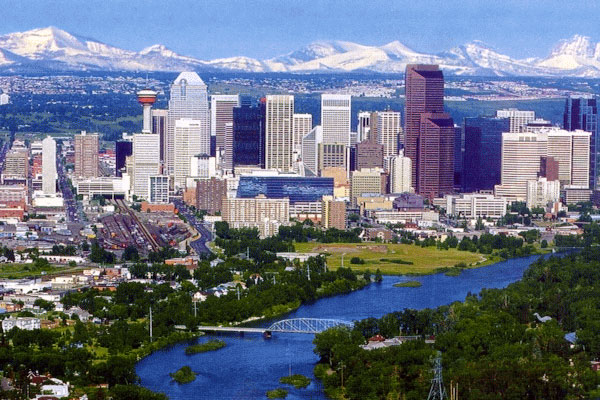 There are loads of good reasons to visit Calgary, there are many visitor attractions whether you are with a large or small group. We don't plan to suggest which sights and attractions you visit while in Calgary but perhaps offer advice on what's there. Not unlike other cities, there are good and bad places to visit and if this is your initial time of visiting Calgary or if you have been there before, it's important you make the most of your time there. It is often an idea to have a rough plan of places you wish to visit, and Calgary has a number of really interesting experiences that you will remember for a long time.
Calgary Top 10 Attractions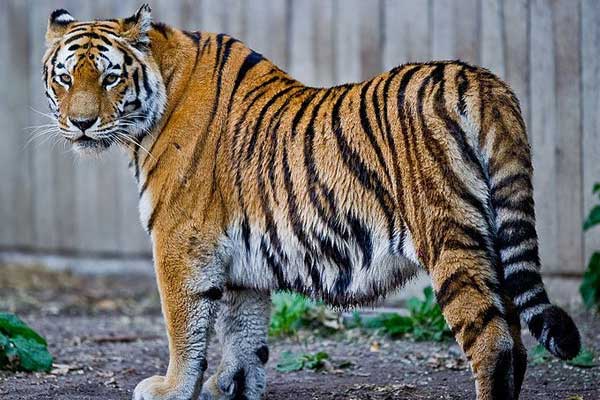 While you are in Calgary there are a lot of attractions that you should be aware of to possibly plan into your trip. The revered Alberta sphere of Canada has attractions that you may know and other you won't know to people from outside the area of Calgary we've compiled a fantastic list to be of help to you:
1. Spruce Meadows
2. Fish Creek Provincial Park
3. The Calgary Zoo
4. Heritage Park
5. Calgary Stampede
6. Calgary Pathway System
7. The Military Museums
8. Edworthy Park & Douglas Fir Trail
9. Bow River
10. Prince's Island Park
These are a simple starting point if you have a good travel guide and map you can delve further and if you schedule enough time in Calgary. You are sure to find other interesting points of interest and attractions in the Calgary area of Canada.
Getting Around In Calgary
Calgary is not a difficult city to navigate, when you have grasped the layout of the place and understand the layout with the help of some local landmarks you will be able to get round with ease. You can discoverer a lot of the area on foot but make sure you stick to places you know after dark. If you want to cover more ground in Calgary there are other ways to get around. Calgary has a Metro system than is known as the C-Train, it consists of 2 lines covering 44 stations and is a quick and effective way to get around the city. There is a city wide bus system where passes can be bought to cover you for multiple journeys. If you need flexible transport you can Rent A Car in Calgary, there is also the alternative to use Calgary Taxis, but be aware of heavy traffic at busy times. What ever method you use to explore Calgary make sure you see as much of the city as your can.
Calgary Metro C-Train Map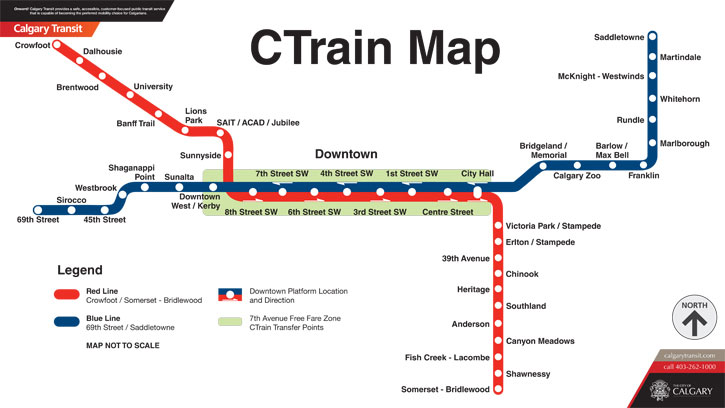 Large Calgary Metro C-Train Map
Hotels In Calgary
If you wish to stay in Calgary for a period longer than one day you will need to find a suitable place to stay. Calgary has a wide range of places to bed down these include hotels varying from the higher end of the star range to more modest hotels, B&Bs and hostels. If you are in town on business ensure that the hotel you pick has the business facilites that suit your needs, check the area location is good as traffic in Calgary can cause problems at certain times of the day. If you are looking for a prestigious hotel to stay at there is a selection of top chain and independent hotels. Calgary also offers a good selection of lower star hotels that offer basic but suitable facilities for travellers. If you do not have a huge accommodation budget there is a number of hostels and guest houses in the city which are a good place to rest your head. Whichever type of accommodation you select in Calgary try and make time to see if any bargains exists on a wide array of travel web sites, often when there is a big event on in town.
Recommended Hotels In Calgary
1. Residence Inn Calgary Airport
2. Hotel Le Germain Calgary
3. Courtyard Calgary Airport
4. Hilton Garden Inn Calgary Airport
5. Lakeview Signature Inn Calgary Airport
Venues To Dine In Calgary
There are endless places to eat in Calgary, the venue you are limited to is only bound by your budget and tastes. There are quite a lot of dining venues that offer Canadian menus that will not cost the Earth. If the restaurant type you are looking for is of the high end there are a number of these, but be sure to have a prior reservation and ensure that your follow the dress code if there is one. If you just wish to eat without glamour the well known chain brands , but if you want something a bit more edgy you should ask a local and see where they suggest. A fundamental part of enjoying a city is to try it's local food There is a wide variety of places to dine in Calgary. whether it is a café, restaurant or the food that can be bought and eaten on the street. Check out local guides and press for offers and try something that you have never had before.
Recommended Places To Eat In Calgary
1. La Brezza Ristorante
2. OEB Breakfast Co.
3. The Himalayan
4. La Casa d'Italia Ristorante
5. Blue Star Diner
The Shops And Outlets In Calgary
Calgary is a great place for shopping, there are some great areas of the city where you can buy fantastic items and gifts. Calgary has a wide array of designer boutiques and high end outlets, for those interested in buying clothes. It also has popular brand name outlets, here you can buy fashions at lower prices. If you have an eye for saving money, Calgary has a number of stalls and markets where you will be able to find big savings on clothes and gifts. Like a lot of cities, Calgary has a number of Shopping Centres with countless shops. The are also a number of shops with a difference that offer items with a twist unique to Calgary
Shopping Locations In Calgary
17th Ave Retail & Entertainment District - Popular Shopping Area With Gift And Novelty Shops
Downtown Calgary - Popular Shopping Area With Gift And Novelty Shops
Haskayne Mercantile Block at Heritage Park Historical Village - Shopping Mall / Shops / Restaurants
Olde Towne Okotoks - Elegant Shopping Street With Unique And Popular Outlets
Calgary Information
When starting to understand a new city like Calgary it is often a good idea to have some inside knowledge. Here are a number that could really help you out.
Continent: North America
Country: Canada
Region: Alberta
International Dialing Code: 1
Calgary Coordinates: 51.0500° N, 114.0667° W
Altitude: 1,045 m (3,428 ft)
Currency: Canadian Dollar (CAD)
Language: English
Calgary Time Zone: MST (UTC-7)
City Population: 1,096,833
Metro Population: 1,214,839
Temperature High In 24 °C / 75 °F
Temperature Low In -3 °C / 27 °F
Keeping Safe In Calgary
Just like other cities Calgary possess it's own good and bad points. it is important to be smart and you will remain safe and have a great trip to this fantastic Canadian place. Try and make sure you're read your guide book to understand the city geography, don't alert people to the fact you are unfamiliar wit h the city by exposing expensive electronic goods and don't carry huge amounts of cash on your person. Don't venture too far from busy locations after dark and if you do discover you have lost your way, don't panic and go into a shop and ask for help. Just because you are enjoying yourself, don't switch off your senses completely. Bear this is mind and you will have a great time in Calgary. As a rule Canada is a very safe country with warm and friendly residents. Some basic groundwork pays dividends and if you know a city better, you will have a much better time there.
The Sporting Teams Of Calgary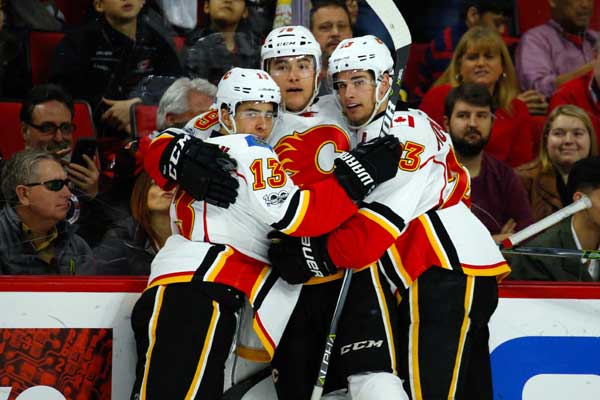 Calgary is a city that really enjoys it's sport there are a number of professional sports teams within Calgary that if you get the chance are well worth a visit at some truly great sporting venues.
National Hockey League Calgary Flames Scotiabank Saddledome
Canadian Football League Calgary Stampeders McMahon Stadium
National Lacrosse League Calgary Roughnecks Scotiabank Saddledome
North American League Calgary Vipers Foothills Stadium
CarHire4Lower By Rick Lockwood
04 September 2017