Travel Guide
The Basics Of Rio de Janeiro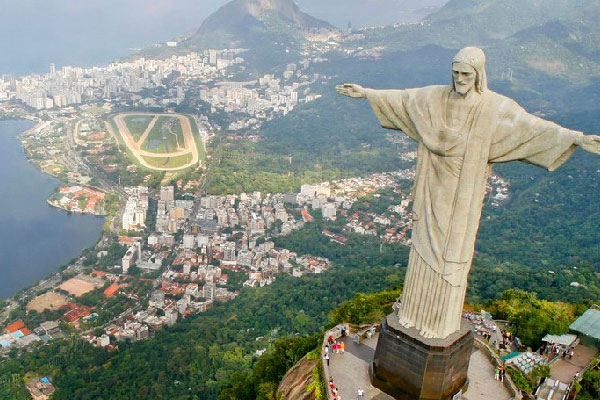 There are loads of good reasons to visit Rio de Janeiro, there are many visitor attractions regardless of whether you are travelling alone, with family or part of a group. We only wish to offer a few suggestions of what to do in Rio de Janeiro but perhaps offer advice on what's there. Not unlike other cities, there are good and bad places to visit and if this visit is your first to Rio de Janeiro or if you have been there before, it's important you make the most of your time there. It is often an idea to have a rough plan of places you wish to visit, and Rio de Janeiro has plenty of interesting experiences that will create many memories.
Rio de Janeiro Top 10 Attractions
When you are visiting Rio de Janeiro there are quite a few places of interest that are certainly worth visiting. The revered Rio de Janeiro vicinity of Brazil has attractions that you may know and other you won't know to outsiders of Rio de Janeiro we have put together a great list to help you:
1. Sugar Loaf Mountain (Pao de Acucar)
2. Cristo Redentor (Statue of Christ the Redeemer)
3. Corcovado
4. Teatro Municipal
5. Pedra da Gavea
6. Sitio Roberto Burle Marx
7. Centro Cultural Banco do Brasil
8. O Verde Eco Tours Ilha Grande
9. Botanical Garden (Jardim Botanico)
10. Ipanema Beach
These are a simple starting point if you have taken a quality travel guide you will be able to find more and if you have long enough in Rio de Janeiro. You will discover other enjoyable points of interest and attractions in the Rio de Janeiro part of Brazil.
Getting Mobile In Rio de Janeiro
Rio de Janeiro is not a hard place to travel around, once you have an eye for the place and know a couple of local landmarks it should become pretty simple. You can discoverer a lot of the area on foot but be sure to stick to popular and familiar areas after dark. If you want to travel greater distances across Rio de Janeiro there are other ways to get around. There is a good, reliable bus network where passes can be bought to cover you for multiple journeys. Collect a Hire Car in Rio de Janeiro, there is also the option to use Rio de Janeiro Taxis, but be aware of slow moving traffic at rush hour. What ever method you use to explore Rio de Janeiro ensure you see as much of it as you can.
Rio de Janeiro Metro Map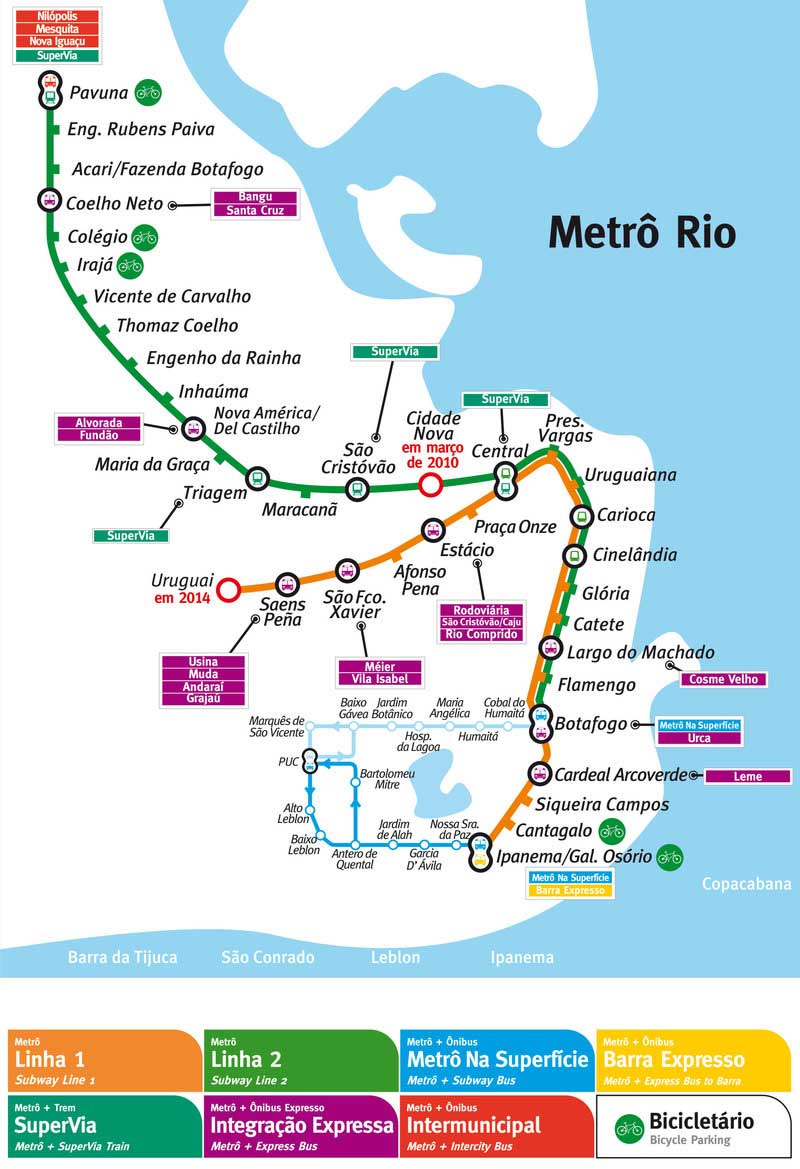 Accommodation In Rio de Janeiro
If you plan to stay in Rio de Janeiro for longer than one night you will need to find a suitable place to stay. Rio de Janeiro offers a broad range of facilities to sleep these include hotels varying from the higher end of the star range to more modest hotels, B&Bs and hostels. If you are in town on business ensure that the hotel you pick has facilities to suit you and is OK for your needs as the roads in Rio de Janeiro can cause problems at certain times of the day. If you are seeking out more luxury accommodation there is a selection of top independent and chain hotels. Rio de Janeiro also offers a good selection of lower star hotels that offer basic but suitable facilities for travellers. If you do not have a huge accommodation budget there is a number of hostels and guest houses in the city which are a good place to rest your head. Whichever type of accommodation you select in Rio de Janeiro ensure you take time to seek out deals that are available on countless travel web sites, often when there is a big event on in town.
Recommended Hotels In Rio de Janeiro
1. Copacabana Palace Hotel by Orient-Express
2. Miramar Hotel by Windsor
3. Windsor Atlantica Hotel
4. Porto Bay Rio Internacional Hotel
5. Arena Copacabana Hotel
Dining In Rio de Janeiro
A number of places exist to dine in Rio de Janeiro, the sites where you select to eat at will be reflected by your budget. There are quite a lot of good cheap places that offer Brazilian menus that don't break the bank. If you wish to dine in a high class restaurant there are a wide number of these, but you will need to make a reservation also check the dress code. If you just want quick food there are the familiar names , but if you are on the look out for something more authentic why not ask a local and see where they recommend. A key aspect of visiting a new city to try new things, this includes it's food There is a wide variety of places to dine in Rio de Janeiro. whether that is a café, a fine restaurant or food from a street vendor. You should try and seek your local vouchers and remember to try something new.
Recommended Places To Eat In Rio de Janeiro
1. BB Lanches
2. Rio Scenarium
3. Restaurante Ki
4. Hachiko
5. Olympe
Rio de Janeiro Information
When getting you head around a new city like Rio de Janeiro it is good practice to have some inside knowledge. These is a few that could come in handy.
Continent: South America
Country: Brazil
Region: Rio de Janeiro
International Dialing Code: 55
Rio de Janeiro Coordinates: 22.9083° S, 43.2436° W
Altitude: 0 to 1,021 m (from 0 to 3,349 ft)
Currency: Brazilian Real (BRL)
Language: Portuguese
Rio de Janeiro Time Zone: BRT (UTC-3)
City Population: 6,323,037
Metro Population: 12,387,000
Temperature High In 86.4 °F / 30.2°C
Temperature Low In 19.2°C /66.6°F
Keeping Safe In Rio de Janeiro
Like any city Rio de Janeiro possess it's own good and bad points. it is good to be mindful and you will be OK and undertake a great trip to this fantastic Brazilian location. Take a good guide book and know where you are going, don't make it obvious you are a novice to the cities geography by flaunting expensive devices around and don't carry valuables or excessive amounts of cash on your person. Don't venture too far from busy locations after dark and if you do get lost, stay calm and visit a shop to consult your guide book or map. You might be enjoying yourself, but still be alert. Stay street wise and you will have a great trip to Rio de Janeiro. As a rule Brazil is a very safe country with warm and friendly residents. Conducting some basic research is very valuable and if you know a city better, you will have a much better time there.
CarHire4Lower By Rick Lockwood
17 August 2017