Travel Guide
Car Rental In Brazil
An Introduction To Fortaleza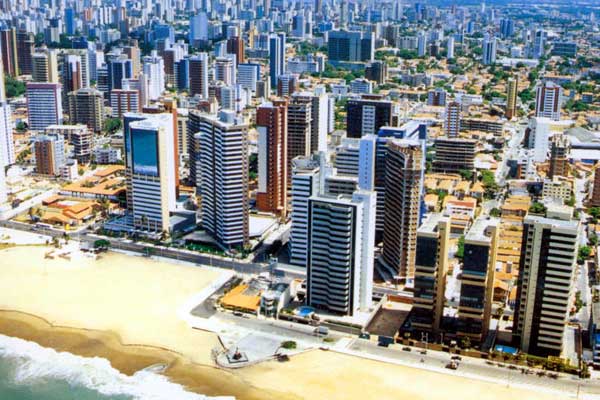 So you are planning to visit Fortaleza, there is a wide variety of things to see and do no matter who you are travelling with. We don't plan to suggest which sights and attractions you visit while in Fortaleza but rather just provide guidance and offer advice on what is there. Comparable with other cities, there are great and not so great places to visit and if this visit is your first to Fortaleza or if you are a seasoned visitor, there is always something new to see or do. It is often an idea to have a rough plan of places you wish to visit, and Fortaleza has a number of really interesting experiences that you will remember for a long time.
Top Ten Fortaleza Attractions
During your time in Fortaleza there are quite a few places of interest that should make up part of your trip. The highly regarded Ceará area of Brazil has attractions that you may know and others which aren't that familiar to people from outside the area of Fortaleza we have assembled a List of Ten to be of help to you:
1. Jericoacoara Beach
2. Morro Branco
3. Porto das Dunas
4. Cumbuco Beach
5. Fontes Beach
6. Dragon of the Sea Cultural Center
7. Jose de Alencar Theater
8. Praia do Futuro
9. Ingleses Bridge
10. Centro de Turismo do Ceara
This collection are just to get you going if you have a good local book or guide you can seek out a bit more and if there is enough time in Fortaleza. You will discover other enjoyable locations and attractions about the Fortaleza vicinity of Brazil.
Fortaleza Transport
Fortaleza is a fairly simple location to get around, when you have grasped the layout of the place and you are familiar with a couple of landmarks you will be able to get round with ease. You can cover a lot of the city on foot but make sure you stick to places you know after dark. If you wish to cover larger distances across Fortaleza there are a number of modes of transportation. Fortaleza has a Metro system that consists of 2 lines with 28 stations. There is a good, reliable bus network where passes can be bought to include multiple trips on more than one day. If you are in a larger party, it might be better to use a Rental Car in Fortaleza, there is also the alternative to use Fortaleza Taxis, but be aware of heavy traffic at busy times. What ever method you use to explore Fortaleza make sure you see as much of the city as your can.
Fortaleza Metro Map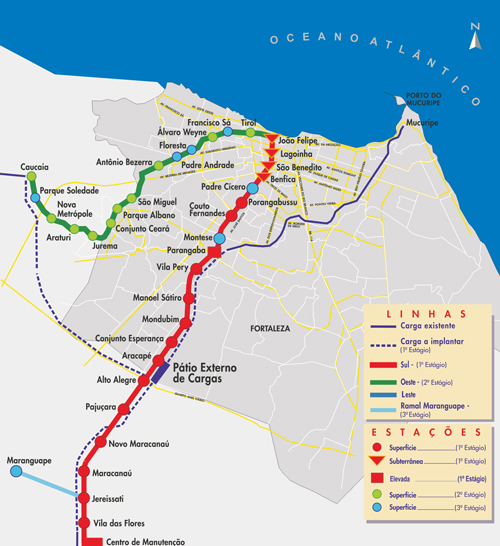 Accommodation In Fortaleza
If you wish to stay in Fortaleza for a period longer than one day you will be looking for a place to sleep. Fortaleza offers a broad range of facilities to sleep these include hotels varying from the higher end of the star range to more modest hotels, B&Bs and hostels. If you are travelling on business ensure the hotel you decide to select has facilities to suit you and is OK for your needs as the roads in Fortaleza may result in problems at certain times. If you are seeking out more luxury accommodation there is a selection of top chain and independent hotels. Fortaleza also offers an excellent array of lower star hotel options that provide basic but suitable facilities for travellers. If you are visiting on a small budget there is a number of hostels and guest houses in the city which are a fine place to sleep overnight. Whatever accommodation type you select in Fortaleza ensure you take time to seek out deals that are available on countless travel web sites, often these are out of season or when a home sports team isn't playing a game.
Recommended Hotels
1. Hotel Gran Marquise
2. Holiday Inn Fortaleza
3. Hotel Luzeiros
4. Marina Park Hotel
5. Quality Hotel Fortaleza
Dining Out
There are many different places to eat in Fortaleza, the place you dine at will reflect your tastes and budget. There are quite a lot of dining venues that offer Brazilian meals and don't break the bank. If you are on the look out for a fine dining restaurant there are a wide number of these, but you will need to make a reservation and ensure that your follow the dress code if there is one. If you just want quick food there are the familiar names such as Burger King, McDonalds etc, but if you are seeking something real you should ask a local and see where they suggest. A key aspect of visiting a new city to try new things, this includes it's food There is a wide variety of places to dine in Fortaleza. whether that is a café, a fine restaurant or food from a street vendor. You should check local newspapers for offers and remember to try something new.
Recommended Places To Eat
1. Cabana del Primo
2. Restaurante COCO BAMBU FRUTOS DO MAR
3. Coco Bambu Meireles
4. Pizza Vignoli Fortaleza
5. Santa Grelha
Fortaleza Facts And Statistics
If you are getting to grips with a new city like Fortaleza it is good practice to have some inside knowledge. Here are a number of facts that could be of help to you.
Continent: South America
Country: Brazil
Region: Ceará
International Dialing Code: +55
Fortaleza Coordinates: 3°43'6?S 38°32'34?W
Altitude: 21 m (69 ft)
Currency: Brazilian Real (BRL)
Language: Portuguese
Fortaleza Time Zone: BRT(UTC-3h)
City Population: 2,571,896
Metro Population: 2,571,896
Temperature High In 30.5 °C (86.9 °F)
Temperature Low In 22.4 °C (72.3 °F)
Keeping Safe In Fortaleza
Just like other cities Fortaleza has it's pros and cons, it is important to keep your wits about you and you will be fine and undertake a great trip to this fantastic Brazilian area. Take a good guide book and know where you are going, try not to make it obvious you are a visitor to the city by flaunting expensive devices around and try not to carry more cash than you need on your person. Stick to areas you know after dark and if you do get lost, stay calm and visit a shop to consult your guide book or map. You might be enjoying yourself, but still be alert. Stay street wise and you will have a great trip to Fortaleza. On the whole Brazil is a very safe country with warm and friendly residents. Some basic groundwork pays dividends and if you know a city better, you will have a much better time there.
CarHire4Lower By Rick Lockwood
17 August 2017