Travel Guide
An Introduction To Brasilia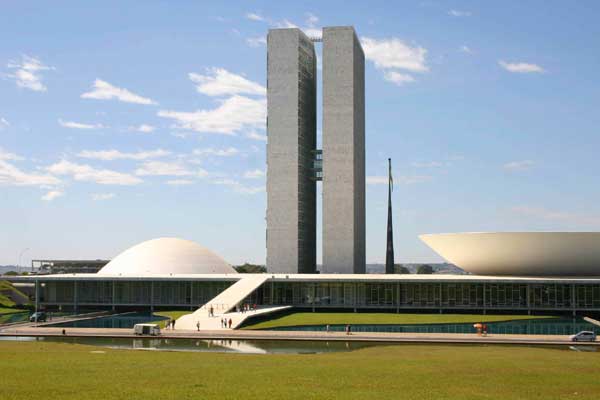 It's wonderful to pay a visit to Brasilia, on offer is a number of brilliant attractions whether you are with a large or small group. We don't plan to suggest which sights and attractions you visit while in Brasilia but perhaps offer advice on what's there. Not unlike other cities, there are good and bad places to visit and if this is your initial time of visiting Brasilia or if you are a seasoned visitor, there is always something new to see or do. It is often an idea to have a rough plan of places you wish to visit, and Brasilia has plenty of interesting experiences that will create many memories.
Brasilia Attractions
During your visit in Brasilia there are a lot of attractions which are worth some of your time. The revered Federal District locality of Brazil has attractions which you could be familiar and maybe others that are not known to people from outside the area of Brasilia we've compiled a fantastic list to be of help to you:
1. Banco do Brasil Cultural Centre
2. Santuario Dom Bosco
3. Catedral Metropolitana
4. Itamaraty Palace
5. Pontao do Lago Sul
6. Juscelino Kubitschek Memorial
7. Museu de Valores
8. Congresso Nacional
9. Salto do Itiquira waterfall
10. JK Bridge
These are a simple starting point if you have a good travel guide and map you can seek out a bit more and if you have long enough in Brasilia. You are sure to find other interesting locations and attractions about the Brasilia area of Brazil.
Transportation In Brasilia
Brasilia is a pretty simple place to get around, once you have your bearings and understand the layout with the help of some local landmarks you will be able to get round with ease. You can cover a lot of the city as a pedestrian but be sure to stick to popular and familiar areas after dark. If you want to cover more ground in Brasilia there are a few more options. There is a good network of buses that passes can be bought to include multiple trips. Collect a Hire Car at Brasilia Airport, there is also the option to use Brasilia Taxis, but be aware of heavy traffic at busy times. Whichever way you plan to explore Brasilia ensure you see as much of it as you can.
Brasilia Metro Map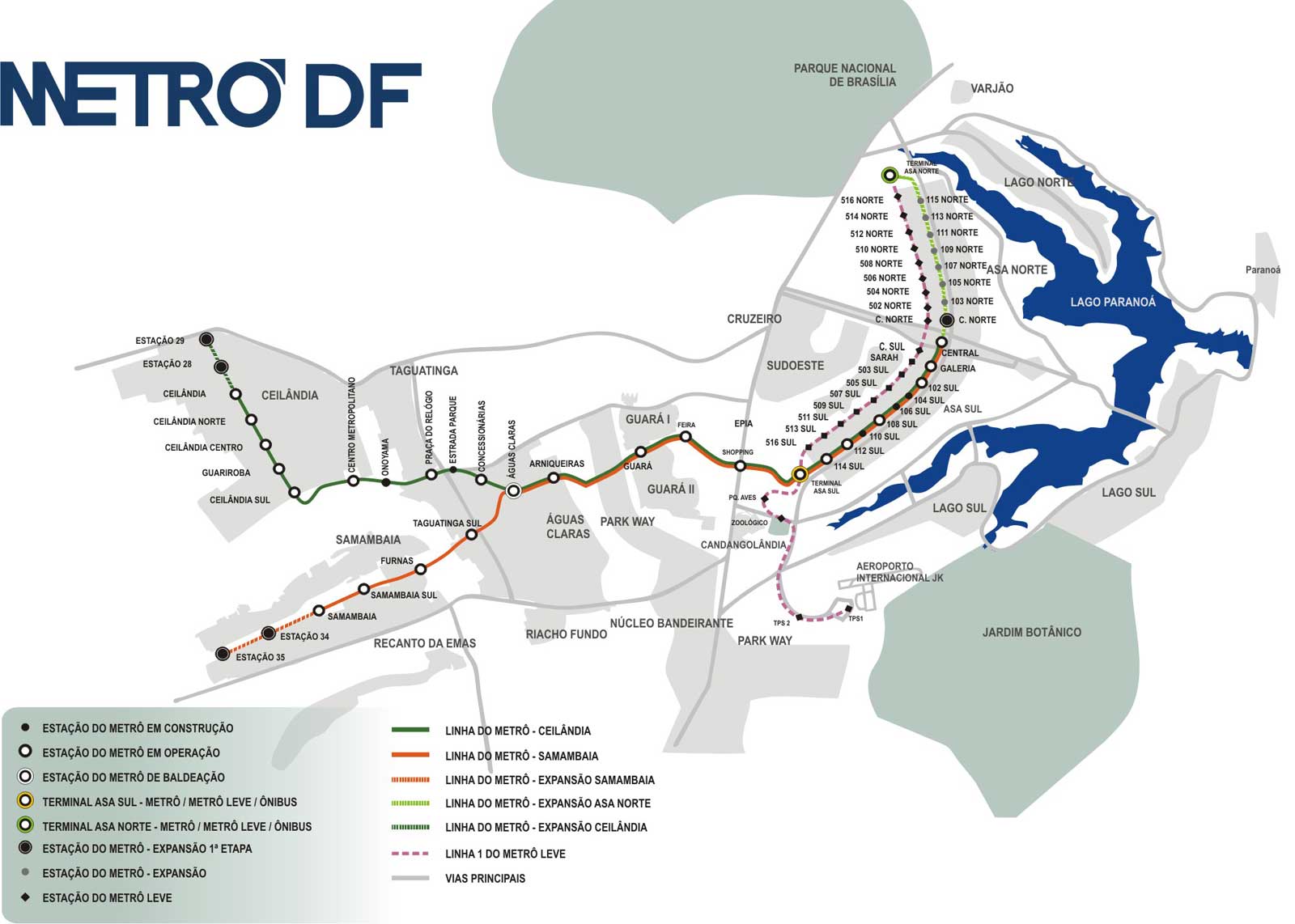 Accommodation In Brasilia
If you wish to stay in Brasilia for a period longer than one day you will be looking for a place to sleep. Brasilia offers a broad range of facilities to sleep these consist of hotels at the high end of the star range to more modest hotels, B&Bs and hostels. If you are travelling on business ensure that the hotel you pick has the business facilites that suit your needs, check the area location is good as traffic in Brasilia may result in problems at certain times. If you are looking for a prestigious hotel to stay at there is a selection of top chain and independent hotels. Brasilia also offers a good selection of lower star hotels that offer basic but suitable facilities for travellers. If you are visiting on a small budget there is a number of hostels and guest houses in the city which are a good place to rest your head. Whichever type of accommodation you select in Brasilia ensure you take time to seek out deals that are available on countless travel web sites, often when there is a big event on in town.
Recommended Hotels In Brasilia
1. Melia Brasil 21
2. Royal Tulip Brasilia Alvorada
3. Brasilia Palace Hotel
4. Comfort Suites Brasilia
5. Bluepoint Suites Bonaparte
Venues To Dine In Brasilia
A wide number of places are available to eat at in Brasilia, the sites where you select to eat at will be reflected by your budget. There are a high number of great low cost venues that provide Brazilian menus that will not cost the Earth. If you are seeking out a high quality dining venue these exist in numbers, but be sure to have placed a prior booking and ensure that your follow the dress code if there is one. If you want fast food there is regular names , but if you want something a bit more edgy find somewhere that's really busy. Part and parcel of visiting a city is to enjoy everything about it, including it's food There is a wide variety of places to dine in Brasilia. whether it is a café, restaurant or the food that can be bought and eaten on the street. You should check local newspapers for offers and remember to try something new.
Recommended Places To Eat In Brasilia
1. Coco Bambu Pizzaria & Cozinha
2. Trio Gastronomia
3. Coco Bambu Lago Sul
4. Mangai
5. Fogo de Chao
Brasilia Key Facts
When getting your head around a place like Brasilia it is often a good thing to have some background knowledge. Here are a few that could prove useful.
Continent: South America
Country: Brazil
Region: Federal District
International Dialing Code: 55
Brasilia Coordinates: 15.7989° S, 47.8667° W
Altitude: 1,172 m (3,845 ft)
Currency: Brazilian Real (BRL)
Language: Portuguese
Brasilia Time Zone: UTC/GMT -3
City Population: 2,609,997
Metro Population: 3,800,000
Temperature High In 28.3°C / 82.9 °F
Temperature Low In 12.9°C /55.2°F
Keeping Safe In Brasilia
Like any city Brasilia possess it's own good and bad points. it is good to be mindful and you and your family with main safe and have great memories of this fantastic Brazilian city. Try and make sure you're read your guide book to understand the city geography, try not to make it obvious you are a visitor to the city by carrying an expensive camera around your neck and don't wear expensive jewellery and excessive cash on your person. Stick to well populated areas after dark and if you do get lost, stay calm and visit a shop to consult your guide book or map. Just because you might be on holiday, don't switch off. Stay street wise and you will have a great trip to Brasilia. On the whole Brazil is a very safe country with warm and friendly residents. Conducting some basic research is very valuable and if you have a picture in your mind of the city you can understand it better.
CarHire4Lower By Rick Lockwood
17 August 2017