Travel Guide
In Introduction To Belo Horizonte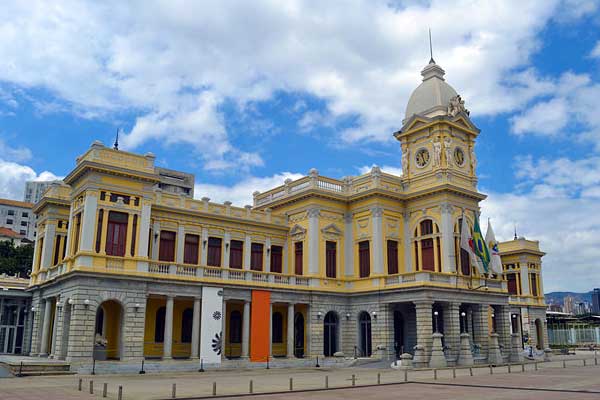 It's a good idea to visit Belo Horizonte there is a great deal to undertake regardless of whether you are travelling alone, or as part of a group. We don't plan to suggest which sights and attractions you visit while in Belo Horizonte but share some of our knowledge about what is there. Just like in other cities, there are plenty of good and bad places to visit and if it is the first time you are visiting Belo Horizonte or if you are a seasoned visitor, there is always something new to see or do. It is good to have an idea of what type of trip you want to make, and Belo Horizonte has a wide array of exciting places to visit that with stick with you for a long time.
Top Attractions In Belo Horizonte
When you are visiting Belo Horizonte a number of great attractions exist that should make up part of your trip. The esteemed Minas Gerais area of Brazil has sights and sounds you may know and perhaps others that aren't known to people from outside the area of Belo Horizonte we have amassed a Top Ten list to help you on your way:
1. Casa Fiat da Cultura
2. Memorial Minas Gerais - Vale
3. Crafts and Arts Museum
4. Praca Da Liberdade
5. Museu das Minas e do Metal - EBX
6. Igreja Sao Francisco De Assis
7. Parque das Mangabeiras
8. Lapinha Cave
9. Conjunto Arquitetonico Da Pampulha
10. Estadio Governador Magalhaes Pinto
These are a simple starting point if you have a good local book or guide you can seek out a bit more and if you have long enough in Belo Horizonte. You will discover other enjoyable locations and attractions in the Belo Horizonte area of Brazil.
Transportation
Belo Horizonte is a pretty simple place to get around, when you have grasped the layout of the place and you are familiar with a couple of landmarks it should become pretty simple. You can discoverer a lot of the area on foot but make sure you stick to places you know after dark. If you want to travel greater distances across Belo Horizonte there are other ways to get around. There are safe and reliable buses where passes can be bought to cover you for multiple journeys. Collect a Hire Car in Belo Horizonte, there is also the alternative to use Belo Horizonte Taxis, but be aware of heavy traffic at busy times. What ever method you use to explore Belo Horizonte make sure you see as much of the city as your can.
Belo Horizonte Metro Map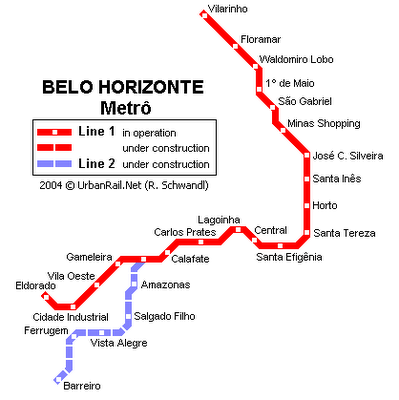 Belo Horizonte Hotels
If you plan to stay in Belo Horizonte more than one night you will need to find a place to stay. Belo Horizonte has a wide range of places to bed down these consist of hotels at the high end of the star range to more modest hotels, B&Bs and hostels. If you are travelling on business ensure that the hotel you pick has suitable facilities and is in the right area for your meetings as the traffic in Belo Horizonte can result in problems at certain times of the day. If you are looking for a prestigious hotel to stay at there is a selection of top independent and chain hotels. Belo Horizonte also offers a good selection of lower star hotels that offer simple but functional facilities for visitors to the city. If you are visiting on a small budget there is a number of guest houses and hotels in the area which are a good place to rest your head. Whichever type of accommodation you select in Belo Horizonte try and make time to see if any bargains exists on a wide array of travel web sites, often these are out of season or when a home sports team isn't playing a game.

Recommended Hotels
1. Quality Hotel Afonso Pena
2. Clarion Hotel Lourdes
3. Royal Golden Hotel
4. Promenade BH Platinum
5. Ouro Minas Palace Hotel
Venues To Dine In Belo Horizonte
A wide number of places are available to eat at in Belo Horizonte, the venue you are limited to is only bound by your budget and tastes. There are quite a lot of good cheap places that offer Brazilian menus that don't break the bank. If the restaurant type you are looking for is of the high end there are a wide number of these, but you will need to make a reservation and make sure you are dressed suitably. If you just wish to eat without glamour the well known chain brands like Burger King exist, but if you are on the trail for something more real you should ask a local and see where they suggest. A fundamental part of enjoying a city is to try it's local food There is a wide variety of places to dine in Belo Horizonte. whether that is a café, a fine restaurant or food from a street vendor. You should try and seek your local vouchers and remember to try something new.
Recommended Places To Eat
1. Provincia di Salerno
2. Vecchio Sogno
3. Casa Bonomi
4. Oroboro
5. Taste Vin
Information
When getting you head around a new city like Belo Horizonte it is always good to be armed with some basic facts. There are some here that could help you.
Continent: South America
Country: Brazil
Region: Belo Horizonte Metropolitan Region
International Dialing Code: 55
Belo Horizonte Coordinates: 19.9167° S, 43.9333° W
Altitude: 852 metres (2,795 ft)
Currency: Brazilian Real (BRL)
Language: Portuguese
Belo Horizonte Time Zone: UTC/GMT -3
City Population: 2,475,440
Metro Population: 5,497,922
Temperature High In 27.7°C / 81.9 °F
Temperature Low In 18.9°C /66°F
Keeping Safe
Comparable with other cities Belo Horizonte has positive and negative points, it is key not to be too complacent and you will be fine and have a great trip to this fantastic Brazilian city. Take a good map and guide and be aware of where you are going, don't alert people to the fact you are unfamiliar wit h the city by holding an expensive video camera and don't wear expensive jewellery and excessive cash on your person. Stick to well populated areas after dark and if you loose your way find a shop or café to consult your map. Just because you might be on holiday, don't switch off. Bear this is mind and you will have a great time in Belo Horizonte. As a rule Brazil is a safe location with helpful and warm citizens. A bit of research goes a long way and if you have a picture in your mind of the city you can understand it better.
CarHire4Lower By Rick Lockwood
17 August 2017